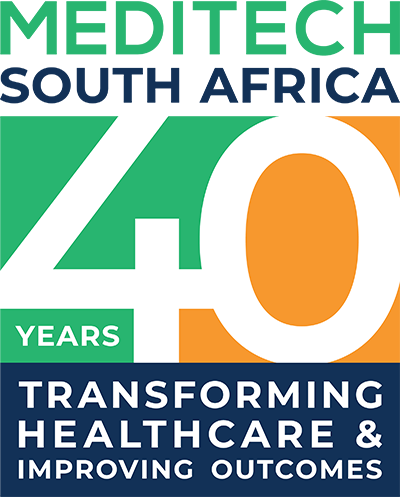 MEDITECH South Africa

Healthcare technology is all about possibilities. Those possibilities are limitless with MEDITECH Expanse, our mobile, web-based EHR. We invite you to take a look at our solutions.
_______________________________________
MEDITECH South Africa celebrates 40 years of transforming healthcare around the globe
Throughout 2022 we enjoyed highlighting the 40th anniversary of MEDITECH South Africa and their commitment to improving healthcare outcomes across the globe. Last September, several executives and staff from MEDITECH South Africa, along with others from our international teams, came together to celebrate the occasion with their U.S. colleagues.
Please join us in congratulating everyone at MEDITECH South Africa on their 40 years of success.
---
MEDITECH Podcast Series
We are pleased to share our three-part podcast series presented by two physician leaders at the Aga Khan University and Hospitals, a global leader in research, education, and medical care, and among the largest private healthcare providers in East Africa and Pakistan.
Hear from Dr K. Nadeem Ahmed Chief Medical Information Officer at AKU and Dr Boniface Mativa, Acting Chief Medical Information Officer at Aga Khan University Hospital Nairobi, who discuss the role that AKU plays in ensuring all patients in their region have equitable access to quality care and their vision on how an integrated EHR can help fulfill that mission. 
Part 1: Supporting Underserved Communities through Equitable Access to Care
Part 2: Standardizing Quality Care Across East Africa and South Asia
Part 3: Making a Global Impact through Industry-leading Research Efforts
We invite you to subscribe to our podcast series on the intersection of technology and healthcare to hear from other thought leaders. Look for us on your favorite podcast directories including Apple Podcasts, Google Podcasts, and Spotify.
---
Namibia Institute of Pathology advances long-term MEDITECH partnership with Expanse
16 September 2021
---
Blog: How a modern EHR will help The Aga Khan University Hospitals improve care throughout the developing world 
Posted by Dr. Shawn Bolouki, Vice President, Health Services, Aga Khan University
8 September 2021 
---
MEDITECH Expanse Oncology
Get all the benefits of Expanse's modern user interface, tailored to the needs of oncologists. From diagnosis to survivorship, this complete outpatient solution automates both clinic and scheduling workflows — optimising efficiency. Meet high patient volumes while still providing a positive patient experience. 
Learn how Expanse Oncology can help your cancer team coordinate care more efficiently for better patient outcomes. Sign up for the Expanse Oncology Webinar.
Video duration: 2 min. 08 sec.
---
---
MEDITECH South Africa
Since 1982, MEDITECH South Africa (Pty) Ltd has provided integrated software solutions to healthcare organisations throughout Africa and the Middle East. With our local knowledge and experience, MEDITECH strives to be the preferred business partner in delivering effective long-term solutions and services.
MEDITECH South Africa Expansion by Year