MEDITECH South Africa Community
We strive to conduct our business in a socially responsible manner and are committed to supporting ongoing research related to critical healthcare issues.
Charities we support
Mandela Day
For Mandela Day this year, we felt it was vital to collect non-perishable food items in Madiba's honour. He always believed that the children are our future and without food they can do nothing. With that in mind, our aim for Mandela Day was to collect food for the Angel Network.

To make it a bit more competitive, we split the building into two teams: The Freedom Walkers and The Madiba Dancers. Teams were instructed to collect non-perishable foods, such as, but not limited to, tinned food, pasta, rice, and maize meal. With a target goal of 670 food items, we set up collection points for each team and just like that race was on.

Over the next two weeks, our wonderful staff brought in various food items. It was a bit of a slow start with most people forgetting to bring in their items but it gradually picked up, with our out-of-towners acquiring assistance from our locals — and some even resorting to Checkers 60 to ensure their items were delivered directly to the office.
At the end of a very close race, and in true MEDITECH fashion, staff not only reached but exceeded the goal, collecting an incredible 776 food items. See our recap here. 
Rare Diseases South Africa
Rare Diseases South Africa, a registered Non-Profit Organisation, provides support and practical aid to individuals and families impacted by rare diseases, including access to life-saving treatment and supportive care for improved quality of life.
The organisation also spreads awareness about rare diseases by providing information to individuals, families, healthcare professionals, and the general public. For Mandela Day, staff at MEDITECH hand painted care packs which were then filled with goodies and given to the charity.
Santa Shoebox Project
The Santa Shoebox Project, originating in Cape Town, has grown in leaps and bounds with the number of shoeboxes growing from a humble 180 boxes in 2006 to an astounding 109,930 in 2014. The boxes are distributed to more than 1000 recipient facilities, through more than 60 satellites around South Africa and Namibia. The success of the Project can largely be attributed to its personal nature – donors give gifts to children whose names, ages, and genders are known. Staff at MEDITECH filled and decorated shoeboxes to contribute to this initiative.
Children of the Dawn
Children of the Dawn was organized to strengthen existing or budding community initiatives which focus on caring for HIV/AIDS orphans. Based on a sponsorship programme, Children of the Dawn's goal is to give back a future to these affected children. Staff at MEDITECH donated clothing and blankets to the over 800 orphans served by the charity.
Avril Elizabeth Home
The Avril Elizabeth Home is known for its progressive ideas and dedicated staff who provide 24-hour care to individuals with physical and intellectual disabilities. 147 permanent residents ranging in age from 4 to 72 years are not simply housed and fed, but are also encouraged to reach their maximum potential.
MEDITECH recently made a donation to The Avril Elizabeth Home to continue the wonderful work they do. Our donation will benefit 78% Black South African persons in the Severe and Profound sections of the home.
Other
MEDITECH donated jerseys to Meyerton High School for the winter, and christmas gifts to the Agape Children's Orphanage.
Let there be light
MEDITECH is converting lighting sources to LEDs and other high efficiency bulbs to reduce the amount of electricity consumption.
Won't go to waste
We recycle paper, plastic, glass and other recyclable materials. We also collect plastic bottle caps which get melted into ingots and then sold for plastic recycling. The monies received go towards purchasing wheelchairs for disadvantaged individuals.
Passion for learning
MEDITECH is a company that appreciates and promotes higher learning. For many years, we have been aware of a shortage of good technical skills in IT. We believe one of the best ways to address this shortage is for companies such as ours to create opportunities for aspiring individuals to develop their skills and talents. With the assistance of Torque IT, MEDITECH is now assisting several young people, so they can get a formal IT qualification whilst working. We are hoping that our investment in these students will enable them to find meaningful employment in the IT industry.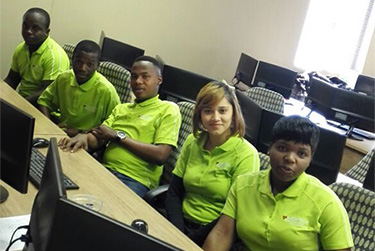 In 2016, five students successfully completed the first part of their learnership training though Torque IT. They are now being hosted by Vodacom IT Support for workplace training. MEDITECH is committed to making a difference in healthcare IT education and is proud to be able to offer these learnerships.
Encouraged by the success of our first group, we have employed 10 more students for the 2017/2018 year.