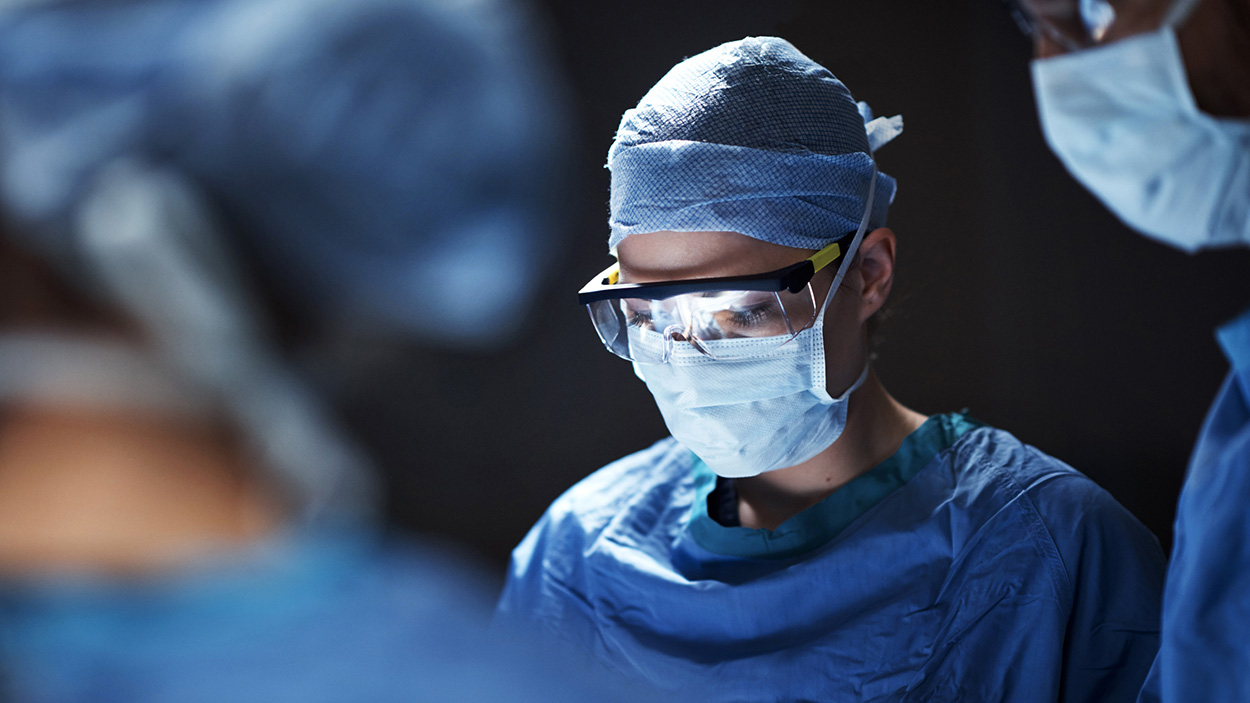 Boost productivity with MEDITECH's Surgical Services
Keep your surgical department running like clockwork. MEDITECH Expanse Surgical Services helps staff to strengthen efficiency and coordination — opening the doors to safer, more productive operating rooms. Intuitive and comprehensive tools enable your staff to manage workflows and patient care more precisely for increased revenue.
Ramp up efficiency with fast and flexible scheduling
Schedule cases and instantly book, move, cancel, hold, and reschedule cases. Make it your own with customization.
Move procedure times and dates by either dragging and dropping, or cutting and pasting.
Link surgeon-specific preference cards automatically — including images — to procedures at the time of scheduling.
Tailor scheduling grids to easily schedule procedures while incorporating multiple resources. Prevent overbooking resources with automated resource conflict checks.
Send questionnaires and procedure information to the patient portal automatically.
Ensure your patients are fit for surgery
Simplify your patient's surgical journey with the Pre-Admission Testing (PAT) Desktop. A split-screen design minimizes appointment information, so you can easily organize the desktop in the way that suits you best. You can:
Manage PAT visit status boards and pre-op call lists that auto-populate based on your procedure-specific workflows.
Customize your PAT Desktop to display the clinical data your team needs to review — including procedure information, lab results, portal questionnaires, consent forms, PFSH, and documentation tools.
Easily consume patient portal questionnaire responses directly into your visit documentation.
Track patients throughout the surgical setting
Surgical Trackers monitor all perioperative information associated with a patient, in real time.
Interact with clinical data and decision support directly from the trackers.
Obtain quality metrics, alerts, and clinical decision support in real time.
Manage patient flow with unlimited displays based on location or status.
View all relevant SBAR data in one place using an embedded Hand Off feature.
Document the entire perioperative episode, from Pre-Op to PACU
Procedure-specific document templates provide important clinical decision support and tools to quickly and effectively document a case.
Record details related to the procedure with ease, including surgical times, staff present, materials used, outcomes, etc.
Access the patient's MAR, transfusion administration record, interprofessional care plans, nursing assessments, Time Outs, and interventions immediately, in one centralized location within Surgical Services.
Share critical documentation data with other-vendor .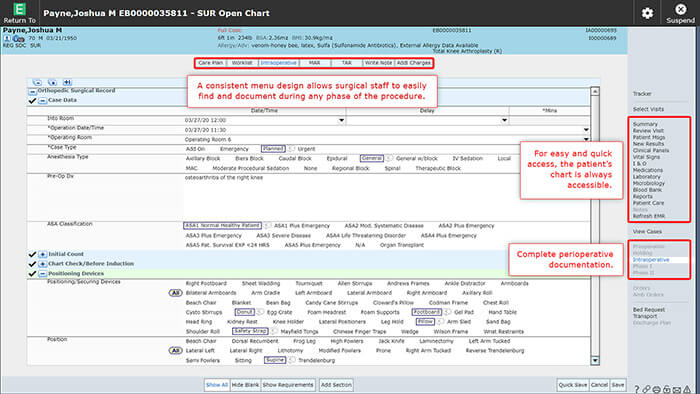 Maintain a healthy bottom line with materials management and revenue cycle integration

Monitor inventory levels and manage costs at all times to avoid inventory shortages and overages.
Use bar-code technology to manage inventories.
Track implants and explants with accuracy.
Streamline physician ordering with queued orders.
Decrement inventory levels in real time during surgical case documentation.
Create, manage, and print requisitions for more inventory items.
Pinpoint changes to inventory when items are lent to, or borrowed from, another location.

Increase revenue and manage cases with specialized Biller and Manager Desktops.
Minimize losses and prevent waste by automatically capturing charges to send to patient accounting.
Open, close, hold, and resume cases in minimal time with a dedicated Biller's Desktop.
Make more informed decisions with the Director/Manager Desktop by quickly accessing standard reports that drill down to a specific surgeon or procedure.
Generate specific data, break down statistics, perform cost analysis, and review block utilization.
Leverage additional features for analyzing custom data to perform strategic cost analysis.
"For anesthesia we are using iProcedures which interfaces directly into Expanse Surgical Services. Our CRNA's are thrilled to be using iPads that allow them to document real-time at the patient bedside, reducing errors, and saving valuable time."
Deb Bergeron, RN/BS, Clinical Systems Analyst
Androscoggin Valley Hospital, part of North Country Healthcare, NH
"Materials Management ensures that we not only have the appropriate supplies for each specific surgery, but that the billing and reordering for those items are done smoothly within the IntraOp documentation section. Additionally, the standard content statistics reporting within the Surgical Services is the envy of other nursing departments."
Cristi Shindler, RN/BSN, Clinical Informatics Nurse Manager
Whitman Hospital and Medical Center, WA
"We were looking for a solution that supported our team's collaborative style, and MEDITECH's Surgical Services has done just that. Their comprehensive approach to scheduling, documentation, and tracking has helped to bridge all the moving parts of our operating room."
Katie Boston-Leary, CNOR
Union Hospital, MD
Download our case study to learn how North Country Healthcare implemented MEDITECH Expanse Surgical Services in three critical access hospitals.