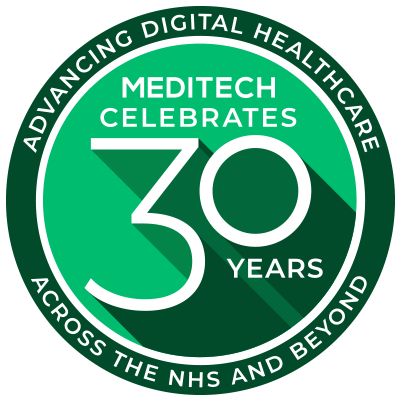 MEDITECH in the UK and Ireland
Serving the UK & Ireland
MEDITECH Celebrates 30 Years of Advancing Digital Healthcare in the United Kingdom

As a proven partner to some of the most successful healthcare organisations in the United Kingdom and Ireland, our customers are advancing digital strategies and achieving impressive milestones:
       Alder Hey and Sunderland are two of just four Trusts in the UK that have achieved HIMSS Level 7 inpatient certification.
---

Healthcare technology is all about possibilities. Those possibilities are limitless with MEDITECH Expanse, our mobile, web-based EPR. We invite you to take a look at our solutions, including the natural extension and evolution of our successful Oncology product, below, as well as the future of medicine — right now— with Genomics.
---
MEDITECH Expanse Oncology
Get all the benefits of Expanse's modern user interface, tailored to the needs of oncologists. From diagnosis to survivorship, this complete outpatient solution automates both clinic and scheduling workflows — optimising efficiency. Meet high patient volumes while still providing a positive patient experience. 
Learn how Expanse Oncology can help your cancer team coordinate care more efficiently for better patient outcomes.
---
Sunderland Royal Hospital Honoured with Prestigious HIMSS Stage 7 Recognition
By Kate Warriner, Chief Digital and Information Officer, Alder Hey Children's Hospital
In healthcare, almost everything we do is influenced and determined by digital technology. At
Alder Hey Children's Hospital
, we care for over 330,000 children per year, making it essential  for us to leverage the power of innovative technologies to enhance patient care and productivity.
Read more
.
30 July 2020 --- For The Rotherham NHS Foundation Trust, following the NHS Five Year Forward View and achieving the nationwide goal of greater patient engagement came in the form of opening its Urgent and Emergency Care Centre. After implementing MEDITECH, Rotherham's patients gained one source of truth for hospital and A&E care. Rotherham experienced automation benefits for both the trust and the A&E. Learn more by downloading our
case study
. 
---
Wolters Kluwer Tracks COVID-19 with New Global Interactive Map using UpToDate®
10 June 2020 — Wolters Kluwer is expanding its support of healthcare providers on the front lines of the COVID-19 pandemic, with evidence-based information about how and where the virus is spreading through its UpToDate® clinical decision support, as well as its new interactive COVID-19 search intensity map.
---
How MEDITECH Customers Worldwide are Meeting the Challenges of the COVID-19 Pandemic
12 May 2020 — COVID-19 has impacted healthcare around the globe. Hospitals are being challenged in ways not previously seen in our lifetimes, as they test and treat large volumes of patients while attempting to control community spread. Read on to learn about some of our customers' worldwide initiatives and how they are helping to meet the challenges of the COVID-19 pandemic.
---
Combatting the COVID-19 Pandemic
We recognize our customers are on the front lines of this pandemic, and that there is much concern and uncertainty. This page will update you on MEDITECH's latest initiatives related to COVID-19, and will share advice and experiences from our customers and physician staff.
Department of Health - Ireland
European Centre for Disease Prevention and Control (ECDC)
---
MEDITECH Vice President Discusses the GDEs Helping to Lead the UK's Healthcare Revolution
9 January 2020 — In the January edition of Open Access Government, Helen Waters, Executive Vice President of MEDITECH discusses how Global Digital Exemplars Alder Hey Children's NHS Foundation Trust and South Tyneside and Sunderland NHS Foundation Trust are leading the UK's healthcare revolution. See pages: 476-477.
---