Expanse Patient Care
The best care.
Humanly

possible.

Your nurses and therapists are working harder than ever as staffing shortages — and patient acuity — increase.

Give them intuitive, web-based tools that offer clinical decision support and a personalized user experience, so they can spend more time with patients instead of technology.

Plus, mobile access to the enterprise-wide EHR means nurses and therapists can move without limitations, wherever they're needed.

It's time to get moving.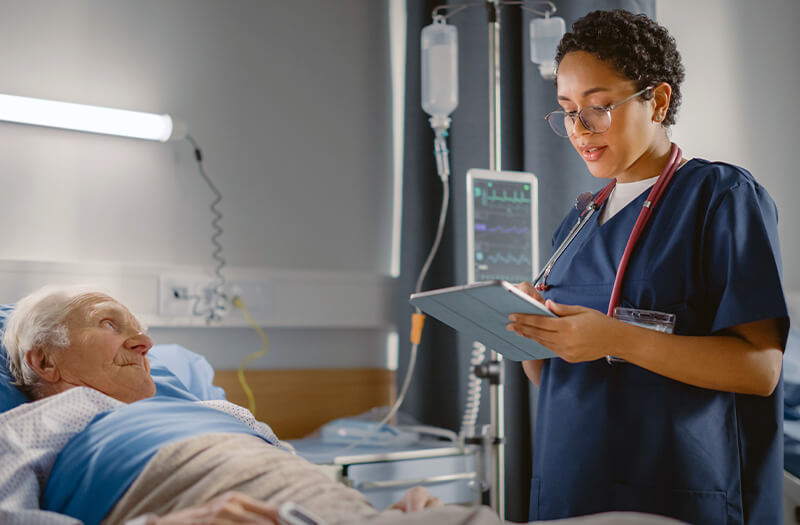 Better for everyone.
When nurses and therapists practice with the smart devices they already know and love, it's a win-win for them and their patients.
Nurses and therapists can:
Grab a tablet to perform hand-offs, review patient education, and discuss discharge plans, right at the bedside.
Remain facing the patient when using this modern, mobile solution.
Navigate the personalized chart and document easily when they're with patients, not later on at the nurses' station.
Scan patient wristbands to access charts and administer medications without lugging disruptive technology to patients' rooms.
Video duration: min. sec.
---
Empower your nurses and therapists.
Dan Nash, CIO of Emanate Health, the largest nonprofit healthcare provider in California's San Gabriel Valley, explains how partnering with MEDITECH helps clear the way for more streamlined nursing care.
Gain time with personalized tools.
Everybody's different. Our agile solution lets nurses and therapists practice their way. Features include:
Task management using tablets and smartphones.
Real-time status board monitoring of all patient activity for smoother hand-offs.
Search functionality to find any item in a patient's chart, saving time and bringing nurses directly to meaningful patient data.
View and workflow personalization to practice the way that makes the most sense.
Same intuitive user interface as their physician colleagues.
What our customers are saying.
"Above all, we are committed to putting patients first. The smart pump infusion integration helps us make strides in the accuracy and efficiency of our nurses, which improves patient safety and gives them more time to spend with the patient at their bedside."
Kristen Fish, RN
Manager, Clinical Informatics
St. Luke's Health System
"Now we're all using the same patient chart, locating information from the same source, and directing that patient's care more effectively across the continuum."
Sara Lewis, RN
Clinical Informatics Specialist
Major Health Partners
"Moving to a web-based solution allowed us to reduce our third-party network licensing costs by over two-thirds. That's more than $40,000 in annual savings — which is expected to go up as we eliminate additional servers."
Carl Smith
Chief Information Officer
King's Daughters Medical Center
"With the increased mobility of Expanse on a handheld device, nurses can slip into a room and administer medication in under a minute, saving time and barely interrupting a recovering patient."
Jureza Moselina, MSN/INF, BSN, RN
Director of Clinical Informatics
Val Verde Regional Medical Center
"Clear communication is the heartbeat of a first-rate hand-off. Expanse Patient Care gives us the tools to efficiently deliver patient information to our colleagues, whether at shift change or when transitioning to a different level of care."
Jessica Troxclair, BSN, RN
Nurse Clinical Informatics Specialist
Lane Regional Medical Center
"I get excited when I see the tools for our clinicians. I want the latest and greatest for them, and I want things to be seamless. Expanse Patient Care has given us all of that and more."
Carol Huesman
Chief Information Officer
Major Health Partners
Safety nets for busy clinicians.
Expanse provides the stopgap measures to prevent errors and preserve your peace of mind. Your nurses and patients will benefit from:
Smarter workflows, more accurate infusion data.
Leave less room for human error. MEDITECH's Smart Pump Infusion Integration improves patient safety and enhances workflow efficiency to give nurses more time at the bedside.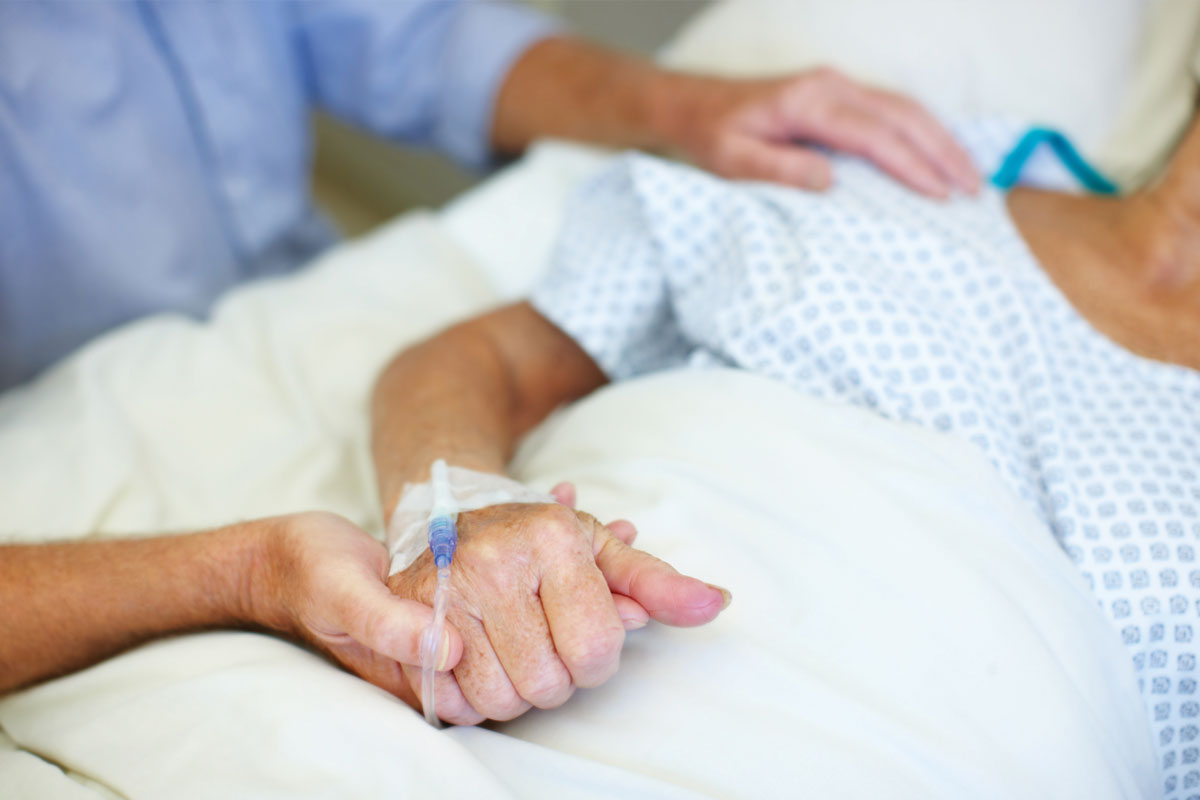 MEDITECH's Smart Pump Infusion integration:
Autopopulates the pump with MEDITECH order data, reducing the potential for error.
Captures infusion start and stop times, increasing billing accuracy.
Accepts primary and secondary infusion pump data, reducing redundant documentation.
Simplify your therapists' hectic schedules.
Reduce cognitive overload and give therapists time back with their patients. MEDITECH's Inpatient Scheduling Board embeds appointment management into their workflow for streamlined scheduling and more accurate therapy-minute tracking.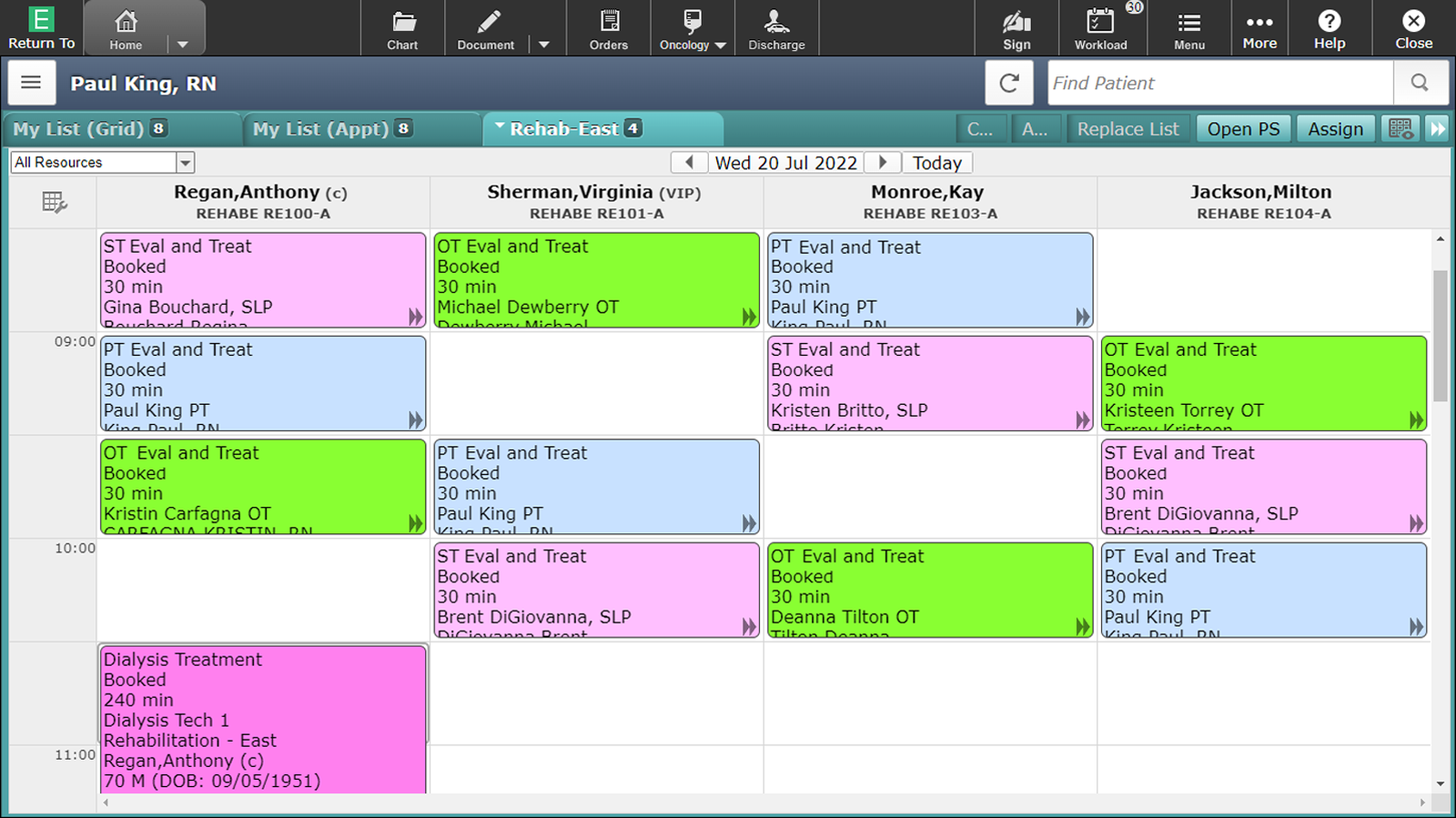 Versatile tools for every specialty.
Whatever your role, Expanse can be tailored to how you want to practice.
Want to see where Expanse Patient Care can take you?