Intervene faster with Surveillance, our predictive analytics solution
Catch patients before they fall through the cracks, help keep them well, and intervene when they're trending poorly. MEDITECH Surveillance analyzes your data in real time and automatically identifies patients who need attention, whether they qualify for a potential HAC or a clinical quality measure. Our integrated toolset fits smoothly into clinical workflows, helping care teams to prioritize care, take action sooner, and improve outcomes.
How does MEDITECH help identify high-risk patients?
Hear from Chief Quality and Compliance Officer Cathy Pimple, MS, APRN, as she explains how Newman Regional Health (Newman, KS) is reducing all-cause readmissions.
Stop emerging issues in their tracks
Your nurses and physicians will know as soon as a patient meets the criteria for sepsis, CAUTI, and other risks.
Evidence-based rules search the clinical and demographic data in MEDITECH's EHR, 24/7. Patients who meet profile criteria automatically populate tracking boards that indicate if the patient is showing signs of a potential HAC. Clinicians can order, document, or message the care team from these actionable boards, right on the spot.
Our integrated solution broadcasts alerts to status boards and trackers throughout MEDITECH Expanse, reducing communication delays and expediting interventions.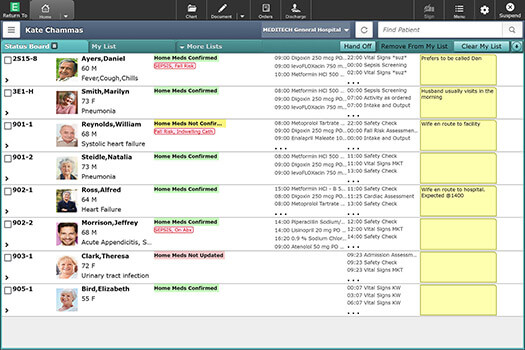 Prevent sepsis and other hospital-acquired conditions
Surveillance works in the background of MEDITECH Expanse, pushing information to you as an early warning system.
Versatility for improved quality and reimbursement
The Surveillance Countdown Clock:
Automatically appears on boards and trackers, indicating the intervention must be completed within a specified timeframe.
Alerts nurses to the amount of time remaining to meet the measure.
Flexibility to suit your needs
The Valley Hospital created an ED copayment surveillance profile to help track whether registrars requested patients' copayments. The profile helps staff to be more efficient in their collections and curbs lost revenue.
Stay vigilant with a real-time global watchlist
Tired of reports that are outdated as soon as they're run? Put the power of Quality and Surveillance in the hands of everyone who needs it, when and where they need it. Identify your most vulnerable patients across the enterprise with our actionable Watchlist. This real-time, high-level view itemizes every profile your patients meet. Simply click on the indicators to view patients' qualifying criteria.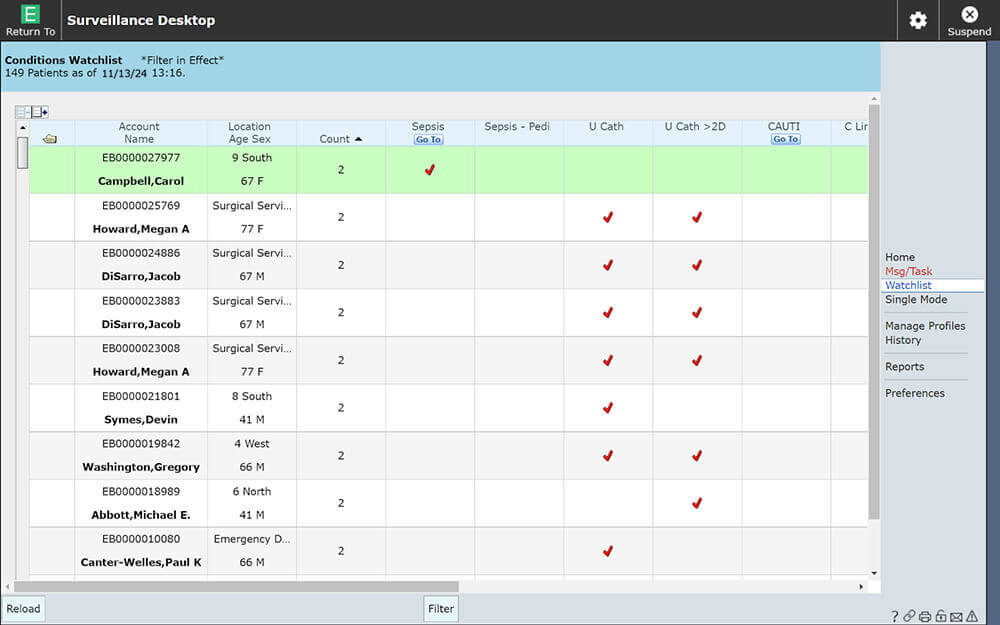 Track COVID-19
Identify and monitor patients who meet the COVID-19 criteria with Surveillance.
Profiles identify patients:
Who are at risk.
With ordered COVID-19 tests.
Who tested positive.
Watchlists indicate all patients who are at risk for COVID-19 and their status.
Can be used by:
Infection control staff.
Nurse managers.
Special Indicators:
Alert clinicians to at-risk patients.
Are accessed in clinician's workflows.
Guide clinicians to take appropriate precautions.
Predict early and act fast with expert-based content
Quality Measures
AMI
Stroke
VTE
Pneumonia
SCIP
Newborn
Sepsis
Conditions
CAUTI
CLABSI
VAP
Sepsis
Pediatric Sepsis
Pressure Ulcers
Positive Microbiology Results
Fall Risk
Consults
Respiratory Therapy
Occupational Therapy
Physical Therapy
Speech Therapy
Dietitian Consult
Preventive Measures/Other
Readmissions
Restraint Orders
CYP2C19 Genotype Poor Metabolizer
Heparin-Induced Thrombocytopenia
Hyperkalemia
Unsigned Admit Orders
Unsigned Orders to Observation
Antimicrobial Stewardship
Best practice for better outcomes
Exceed benchmarks with MEDITECH's evidence-based EHR Toolkits. Condition-specific Surveillance Boards, best practice workflows, and other resources combine forces to help your organization improve clinical and operational outcomes.
Learn how Golden Valley Memorial Healthcare's Birthing Center reduced maternal complications with help from MEDITECH Surveillance.