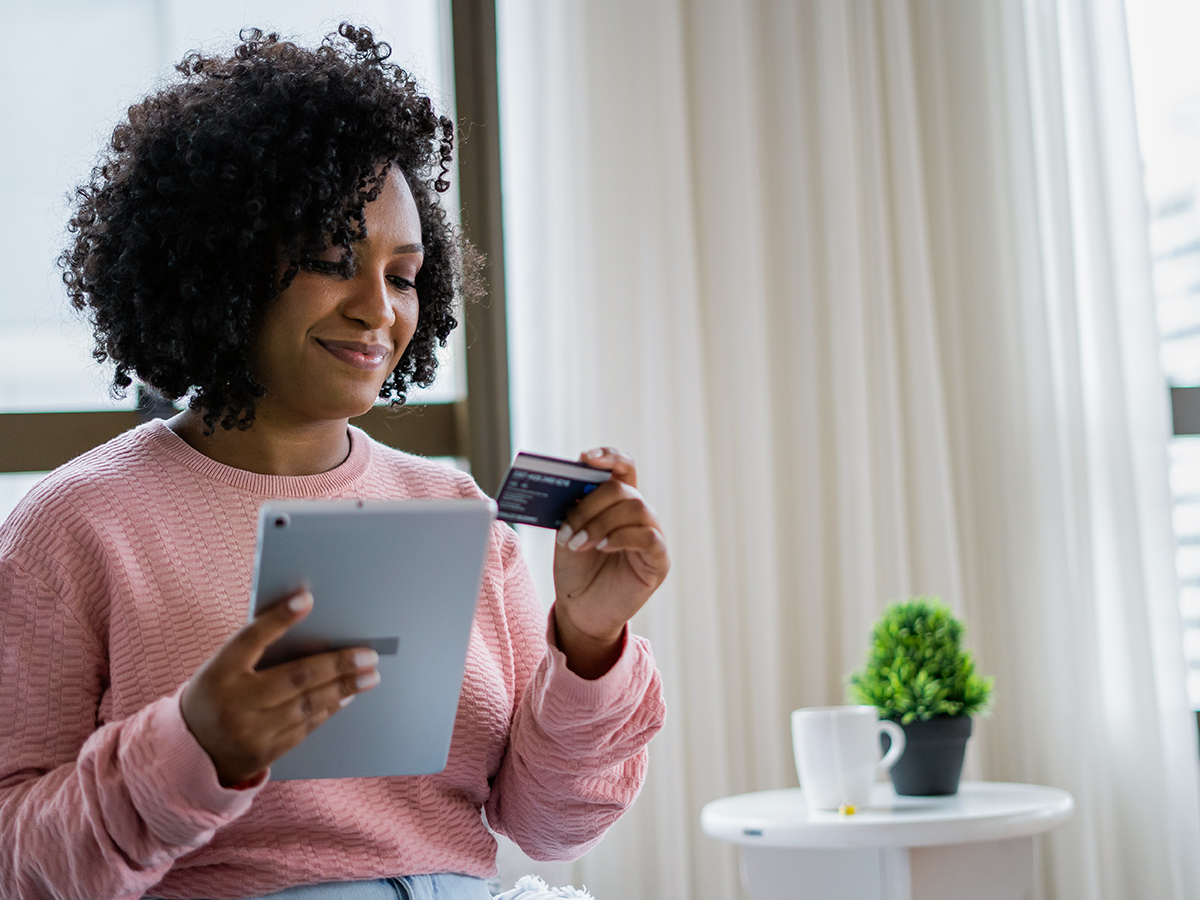 MEDITECH Revenue Cycle
A strong revenue cycle begins and ends with a satisfied patient
The best healthcare is patient-centered — and your organization's revenue cycle should be too. Your community wants consumer-friendly, accurate billing statements as well as simple online tools to settle co-payments and balances. With MEDITECH's integrated Revenue Cycle for Acute, Ambulatory, and Long-Term Care, they will get it — while you build a solid foundation for long-term financial health.
Consolidate your revenue cycle under one roof
MEDITECH's Expanse Revenue Cycle was built with front-to-back integration in mind, giving you a more holistic patient story with every claim. Whether patients are visiting their primary care provider, seeing a specialist, undergoing a procedure at the hospital, or presenting at the ED, MEDITECH ensures that the demographic, insurance, and clinical data needed for timely billing and collections is efficiently captured prior to or at the time of service.
Patient Access/Front Office
Scheduling

Preregistration

Contactless check-in

Registration

Insurance verification

Authorizations

Patient co-pay collect

Financial counseling
Middle Office
Clinical documentation

Transcription coding

Case coordination

Records storage

Release of information

Medical records

Charge capture
Back Office
Claims checking and error resolution

Claims submission

Payment processing and posting

Denial management

A/R follow-up and appeals

Patient statements

Contract compliance
The lower, the better
Intuitive workflows with system-wide integration can substantially reduce A/R days to boost your organization's overall fiscal health.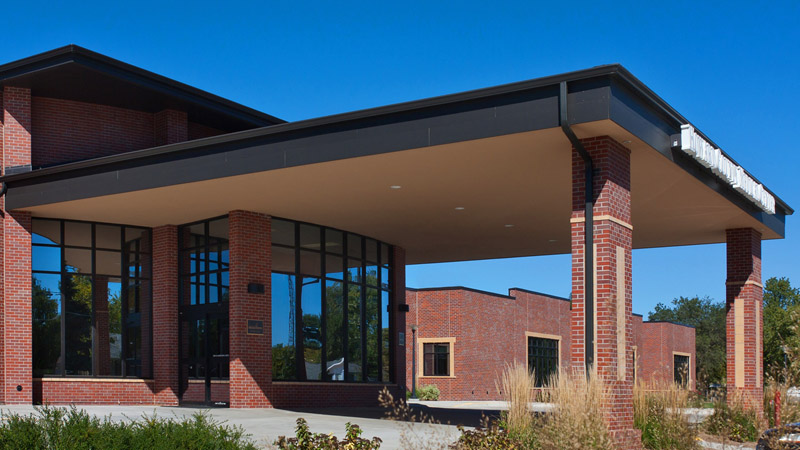 Howard County Medical Center
Howard County Medical Center uses Expanse Revenue Cycle to achieve greater financial transparency and efficiency, reducing self-pay debt by 42% through community engagement.
"It's not just about Howard County, it's about the patients."
— Morgan Meyer, CFO, Howard County Medical Center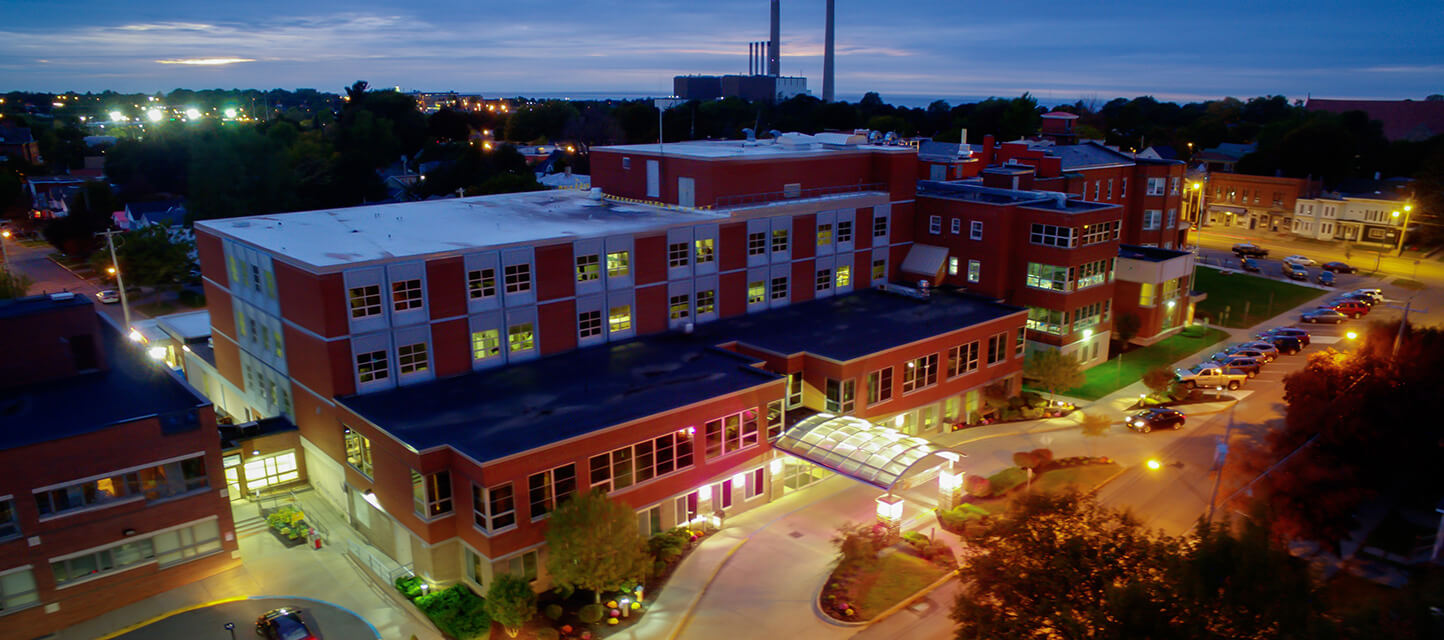 Oswego Health
Using MEDITECH's Revenue Cycle solution to automate processes, Oswego Health has kept their A/R days low, currently averaging between 30-35 days.
"It starts at the top, from the CEO down. Through strong leadership and actionable, transparent data, we've been able to achieve our financial goals."
— Eric Campbell, CFO, Oswego Health
A centralized business office at the heart of healthy profit margins
With providers being expected to reduce inefficiencies and costs while increasing patient satisfaction, you need strong revenue cycle management that is agile and resilient. End-to-end integration beginning at the first points of patient contact — spanning acute, ambulatory, and long-term-care settings — can minimize lost charges, reduce claim rejections, and improve employee productivity.

A seamless experience for patients
Provide a single, accurate, and timely billing statement combining ambulatory and acute charges.
Aid customers with a "one call" environment for billing assistance across all care settings.
Offer patients a single Patient Portal to book appointments and pay their bills.

A unified workflow for staff
Respond to patient or guarantor questions without toggling between care settings.
Use roles-based, prioritized worklists for maximum efficiency.
Trim A/R days with flexible billing, conflict checks, and denial management.
View consolidated revenue reports to manage the overall financial health of your organization.
Denial prevention, beginning with first contact
Get fully reimbursed for the care you provide. Fight costly denials with embedded, front-end denial prevention workflows, a comprehensive appeals process, and the data to monitor trends.
Collect complete and accurate patient and insurance data before services are rendered.
Avoid claim denials. Verify insurance, receive authorization alerts, and perform medical necessity checks upon initial patient contact.
Pre-screen claims and provide billers with a prioritized, exceptions-based worklist of potential denials.
Manage and track the appeals process of denials with actionable worklists.
Monitor and analyze denial trends, as well as the success rate of your appeals, with interactive denial management reports.
MEDITECH Expanse Earns Top Marks in 2023 KLAS Patient Accounting Report
KLAS recognized MEDITECH as the market-share leader for patient accounting solutions in the 250 bed or less space, with MEDITECH Expanse named the top-rated solution.
MEDITECH Expanse was the top-rated solution by nearly 4 points, with a score of 87.2.

Expanse received the highest score in four out of five of the report's customer experience pillars.

MEDITECH scored 18 points higher than the next closest vendor for Value.

100% of respondents said MEDITECH Expanse was part of their long-term plans.
"Patient accounting has been a strength of MEDITECH for as long as we have measured. Our data, collected from hundreds of healthcare providers, shows that MEDITECH is a leading option for those healthcare organizations in need of a high-quality solution at a reasonable price."
— Adam Gale, Co-founder and CEO. KLAS Research
"The revenue cycle module is excellent. I can see so much more and get a bigger picture of what is going on with the system now. We have a lot more automation with claims. The entire claims process and collection process is much more efficient with Expanse Patient Accounting."
— CFO, September, 2022
Realize big ideas with big data
Your data is the key. Unlock its power with revenue cycle solutions that help you gain insight through data analytics and make the most informed decisions for your organization.
Use Business and Clinical Analytics (BCA) — a web-based analytics tool — to increase efficiency, measure progress, and improve performance.

Arm your C-suite with analytics dashboards to drill down into the revenue cycle. Or, view combined revenue cycle data with clinical and operational insights for a broader perspective.

Inform your value-based reimbursement strategy with a holistic view of your patient population.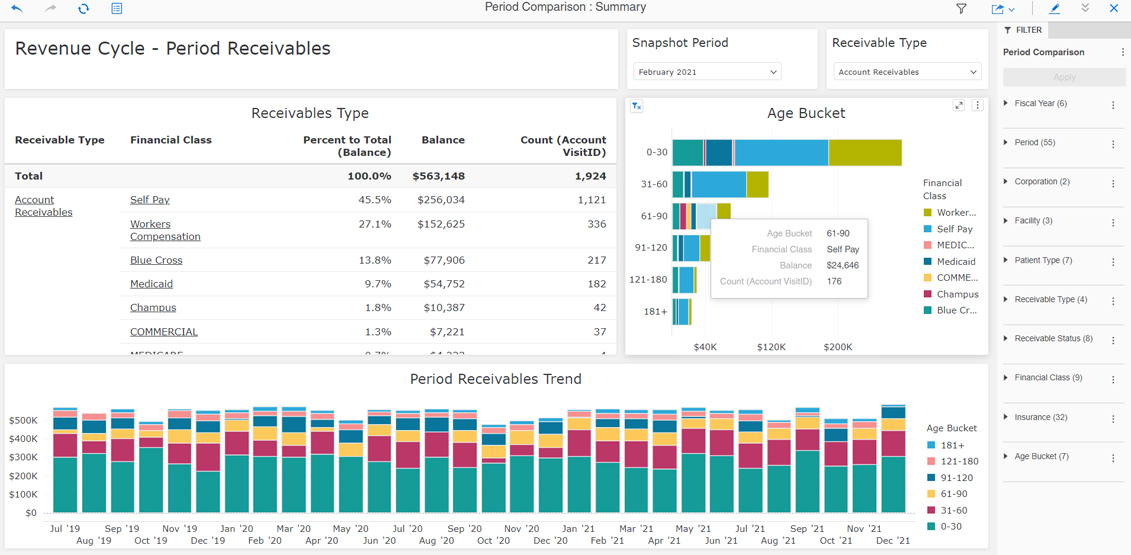 Support your frontline and strengthen your bottom line with strategic revenue cycle management.