Make every second count.
Nurses live in our Critical Care flowsheet. Everything they need is right there — no more navigating from screen to screen.
Document and view patient information simultaneously, on a single screen
Pull values from monitors and ventilators into the flowsheet
Capture cardiac waveforms and annotate directly on them
Manage IVs and titrations from the flowsheet, without exiting to the MAR
View and trend patient information such as results, reports, and physician documentation.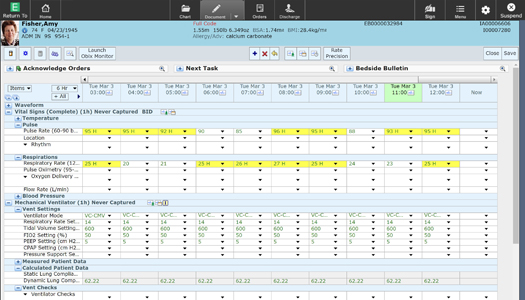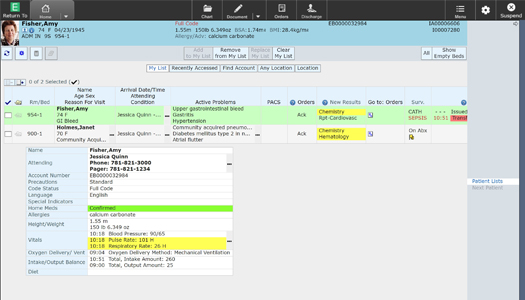 Go with the flow sheet.
Go ahead, document on our interactive flowsheets. They're designed to handle the fluctuations of critical care delivery.
Customize by location, by clinician, and on the fly
Expand and contract menus with the click of a button
Personalize workflows with widgets (e.g., Bedside Bulletin and Orders Notification) that appear above the flowsheet, minimizing navigation from screen to screen
Customize snapshots wherever you need summary information.
Nurses, get a head start.
With a chart that instantly puts CCU/ICU nurses on the same page as their colleagues, your entire care team can move forward with the same information. True mobility means nurses are spending less time with screens, and more time providing hands-on, human care.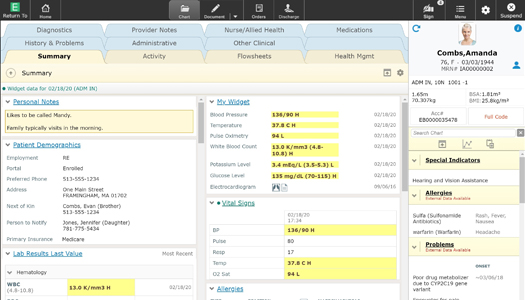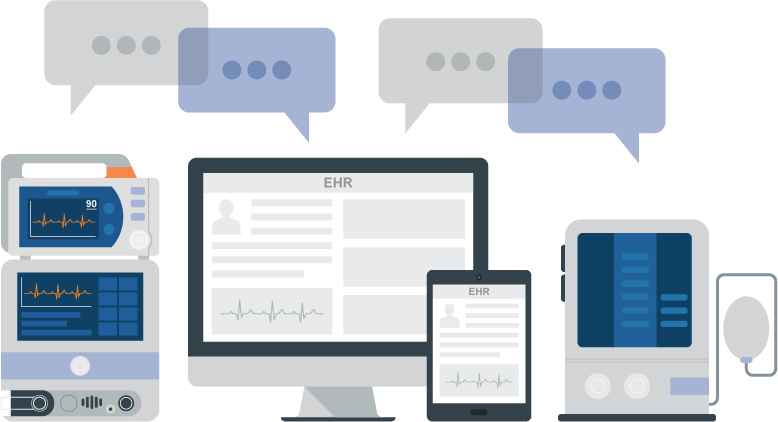 Now you're talking.
Save time and eliminate potential transcription errors. Our Critical Care solution "talks" to hemodynamic monitors, mechanical ventilators, and ECG machines, so nurses can pull in data from multiple monitors, all at once.
Clinically crafted for substantial savings.
MEDITECH collaborated with dozens of customers to develop an effective tool for intensive care delivery. Alicia Brubaker, RN, BSN, CCRN-CMC, of Valley Hospital (Ridgewood, NJ), shares how her experiences led to significant enhancements.
Valley Hospital is realizing a substantial ROI with our Critical Care solution.
$85,872 annual maintenance savings
Projected $429,360 annual maintenance savings over five years
0.25 FTE reduction for application support and 0.15 FTE for interface support
80 percent improvement in capturing charges for "special orders."
It's all here, in MEDITECH Expanse.
Critical Care is the perfect in-road to MEDITECH's patient‐centric EHR. Our groundbreaking technology is blazing trails in the new healthcare landscape.
"In the Critical Care flow sheet, providers can document with less steps than the current process. Not only that, they see the progress of the patient in real-time and the documentation sequence. Even though we're starting with critical care, every unit in the hospital wants this functionality, and we're going to roll it out to them — it's a very powerful way to view and document."
John Brown
CIO, Pacific Alliance Medical Center
(Los Angeles, CA)
Want to see where Expanse Patient Care can take you?