Golden Valley Memorial Healthcare
Reduces Maternal Complications With Support From MEDITECH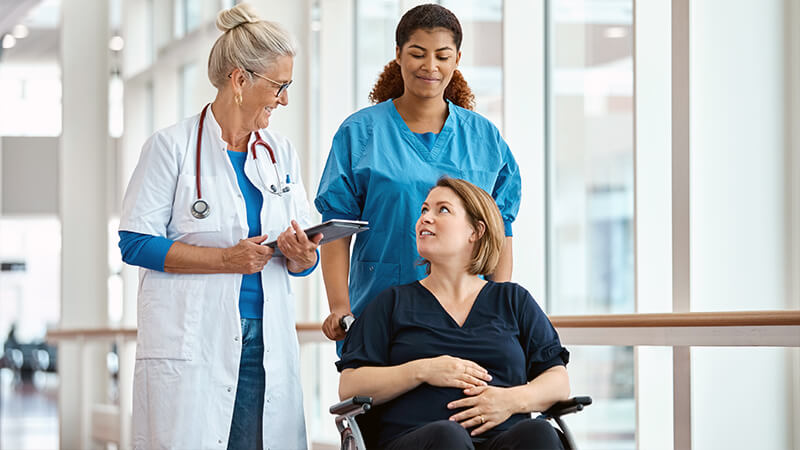 When The Joint Commission introduced 13 new performance measures to address maternal complications such as obstetric hemorrhages and severe hypertension/preeclampsia back in 2020, the Birthing Center at Golden Valley Memorial Healthcare (Clinton, MO) saw an opportunity to test Surveillance, its new predictive analytics solution from MEDITECH.
"That was the impetus for us to look into leveraging Surveillance for its monitoring capabilities," said Birthing Center Director Wendy Bolinger, MBA, BSN, RNC-ONQS. "Since we went LIVE with the solution in 2021, we've seen a drastic improvement in complying with The Joint Commission's elements of performance for managing these maternal complications."
Bolinger noted that Surveillance and staff education have reinforced compliance and help clinicians provide timely treatment to patients, with monthly audits often reporting 100% compliance.
"Maternal morbidity and mortality rates in the United States are the highest in the industrialized world and continue to rise," said Bolinger. "Because of Surveillance, we're able to track and treat maternal complications. If a patient meets the criteria we specified in the profile, nurses and physicians are notified on their status boards and trackers. From there, clinicians have immediate access to processes and protocols for timely treatment."
Identifying at-risk patients
The Birthing Center set a goal to audit compliance in January 2021. A multidisciplinary team of clinicians, IT analysts, and the quality outcomes coordinator developed policies, procedures, and algorithms based on evidence-based practice for maternal complications.
Focusing on maternal hemorrhage and severe hypertension/preeclampsia, the team built surveillance profiles that help identify patients who meet the criteria for these critical events and provide clinicians with actionable insights. In addition to educating clinicians, the team provides just-in-time training in the event of a fallout.
"Giving staff fingertip access to policies, procedures, and protocols keeps them at the bedside, where they can manage the complex care of these patients," said GVMH Quality Outcomes Coordinator Nancy Engeman, BSN, RN.
Maternal hemorrhage profile
Risk assessments are performed at every prenatal visit and during each shift throughout labor and delivery; postpartum risk assessments chart fundal and abdominal checks during recovery. The profile is triggered by either estimated or quantitative blood loss for a vaginal or Cesarean delivery. Nurses quickly see the patient's risk level and are prompted to place appropriate orders, such as blood units on standby, for those at high risk.
Hypertensive crisis profile
Birthing Center patients qualify for the hypertensive crisis profile when their systolic blood pressure measures 160 or their diastolic blood pressure measures 110 and persists longer than 15 minutes. Once the criteria are met, the hypertensive crisis algorithm is initiated, with medication dosing occurring within 30 to 60 minutes. Vital signs are taken every 10 minutes while patients are in crisis, and medication dosing continues until levels are within the target range of 140 - 150 for systolic blood pressure and 90 -100 for diastolic blood pressure.
The Birthing Center uses a surveillance watchlist to give clinicians a high-level overview of patients who meet the criteria for these profiles. Nurses and physicians simply click on the date and time of the alert to see why the patient qualified and view the hospital's treatment protocol.
Meeting the needs of every care setting
Bolinger is confident the Birthing Center will be adding more surveillance profiles in the future.
"With a heavy focus on maternal safety right now, we'll continue to watch for high-risk areas that need to be monitored and add them to our surveillance watchlist," she said.
In addition to the surveillance profiles for maternal complications, the Birthing Center has built a profile to identify neonates at risk for hypoglycemia. Through staff education, surveillance monitoring, and monthly audits, the organization has seen a tremendous improvement in detecting susceptible newborns.
The Birthing Center isn't the only department benefiting from the predictive analytics solution. Surveillance is supporting clinicians throughout GVMH, especially Infection Control.
"Having Surveillance was key for our facility to monitor our COVID process, and we have a pretty extensive list of infection prevention profiles that help us monitor patient care," said Engeman. "Surveillance allows us to zero in on the cases that we need to review, instead of reviewing a ton of normal charts and then finally getting to something that we need to actually have eyes on."