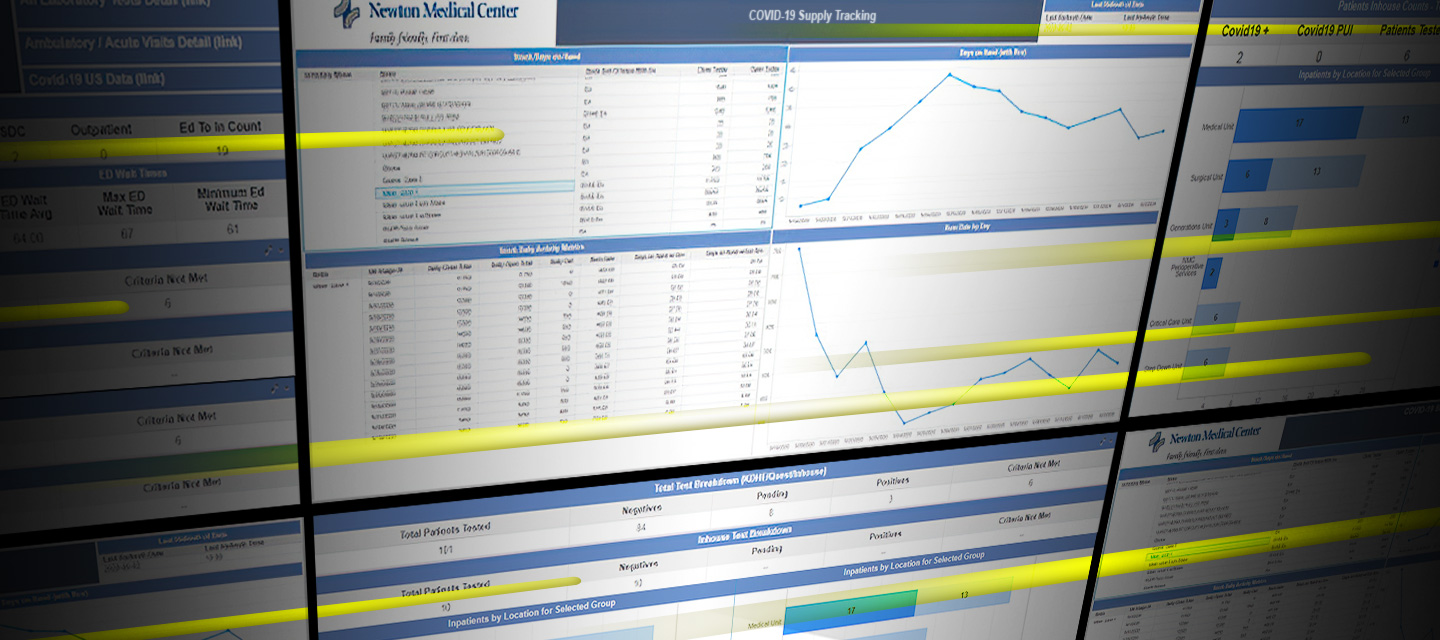 Newton Medical Center uncovers COVID-19 insights with MEDITECH's BCA solution
Newton Medical Center is using COVID-19 dashboards to gain a single source of truth for critical information, including supply tracking for PPE.
As a top 100 rural and community hospital, Newton Medical Center (Newton, KS) is committed to finding innovative ways to protect their community from the spread of COVID-19. One creative solution adopted by the hospital ensures that staff have timely access to the data they need to make the best, most informed decisions, whether related to bed occupancy, testing, or PPE. 
Dashboards in MEDITECH's Business and Clinical Analytics (BCA) provide Newton Medical Center with a single source of truth for critical information, while also eliminating time-consuming manual data collection. By leveraging BCA and working alongside MEDITECH Professional Services, Newton Medical Center created COVID-19 dashboards to uncover insights needed to care for their patients during the pandemic. 
Collaborating with Professional Services for COVID-19 reporting
Newton Medical Center's familiarity with BCA made it a logical place to begin monitoring COVID-19 metrics.
"We used MEDITECH's Professional Services for a project in the past and they were very responsive and great to work with. They reached out to our Incident Command team at the right time to offer their assistance with COVID-19 efforts," said Kelly Lippold, director of Clinical Informatics. "We wanted to track patients in-house who had been tested and run occupancy stats from certain locations, but our Professional Services analyst brought more ideas to the table and expanded what we would be able to look at." 
MEDITECH's Professional Services assisted the hospital's Incident Command team with evaluating, designing, and testing BCA dashboards, and creating reports to achieve their organizational goals. Newton Medical Center is now tracking:  
Occupancy rates by locations equipped for COVID-19 patients.
The number of COVID-19 tests ordered and performed by location, with results.
Symptom prevalence, down to patient-level detail.
Ambulatory utilization analysis, by visit reason.
Quantity on hand for key medical supplies.
Real-time tracking with BCA dashboards
Real-time access to BCA reporting helps Newton Medical Center's Incident Command and Infection Control teams make timely, informed decisions. Staff can choose to have reports automatically sent to them every two hours, or go directly into the dashboards throughout the day to view the latest metrics.
"Having this information collated in one to two screens improves our assessment ability and rapid decision-making. The BCA COVID-19 tool helps communicate important data points with key stakeholder and medical staff, without text-heavy attachments," said Heather Porter, chief clinical officer and incident commander. "This dashboard is a valuable tool for arming managers with real-time statistics related to the state of COVID-19 within the Newton Medical Center health system."
Dashboards for daily huddles
Newton Medical Center's daily operational huddles are conducted based on data from three key dashboards: Snapshot, Lab Tests, and Supply Tracking. 
1. Snapshot
This dashboard provides a real-time view of in-house patients, what locations they're in, their testing status, and the number of patients on ventilators. In addition to being used for Incident Command's daily huddle, the Snapshot dashboard is also used by management to filter out key areas of concern, such as monitoring the hospital's occupancy rate to prepare for potential step-down overflow units.
Infection Control and house supervisors add a "Test Pending" special indicator to patient records to monitor appropriate use criteria. Special indicators span all care settings; if patients are tested and diagnosed in an outpatient setting and later return to the inpatient setting with more serious symptoms, the indicator is still present.
2. Lab Tests
Staff can monitor all lab tests by date range and zip code (for possible disease clusters). They can also track the volume of testing. For example, Infection Control uses this dashboard to ensure clinics aren't over-testing; patients must meet eligibility criteria to preserve swabs and other rationed supplies. The dashboard also helps track turnaround times for tests sent to state and reference labs so the hospital can follow up on any delays.
3. Supply Tracking
Newton Medical Center pulls supply reports into BCA through integration with MEDITECH's Materials Management and uses this data to monitor items in high demand, such as N95 masks. The Materials Management director reviews the average quantity used by day to determine the item's "burn rate." The result is compared to trends over time to calculate the "days left on hand" for that item, based on CDC recommendations.
Newton Medical Center categorizes supply levels by "good," "caution," and "crisis": when in crisis mode, they may have to sterilize and reuse supplies. The burn rate and days left on hand must be submitted to the state to justify supply purchases. This process is now automated through Incident Command tracking. 
"Capturing supplies through BCA has simplified the life of our Materials Management director. She can focus on what we need versus spending time figuring out what we already have," said Lippold. 
Virtual Visits and Future Organizational Plans
Newton Medical Center is also using BCA dashboards to monitor ambulatory virtual visits. While they were not conducting virtual visits prior to COVID-19, they quickly onboarded with MEDITECH's 6-month free deployment offer. Staff can now engage with patients remotely to conduct standard follow-up appointments and screen patients exhibiting symptoms of COVID-19. From the Ambulatory Visits dashboard, providers are able to compare patients seen via telehealth as opposed to on-site. In addition, they can see which patients received tests and the outcome of those tests.  
As part of the state's Phase 1 reopening, Newton Medical Center is increasing testing efforts to account for the resumption of elective surgeries and procedures. Their health leaders are using BCA dashboards to ensure PPE is in place for employees and patients alike, while continuing to use virtual visits as a means of preserving that PPE.
If you need assistance with meeting reporting requirements, please contact your support team or MEDITECH Professional Services. Also, our COVID-19 customer resource page includes BCA Guidance, as well as directions on where to go for additional support.