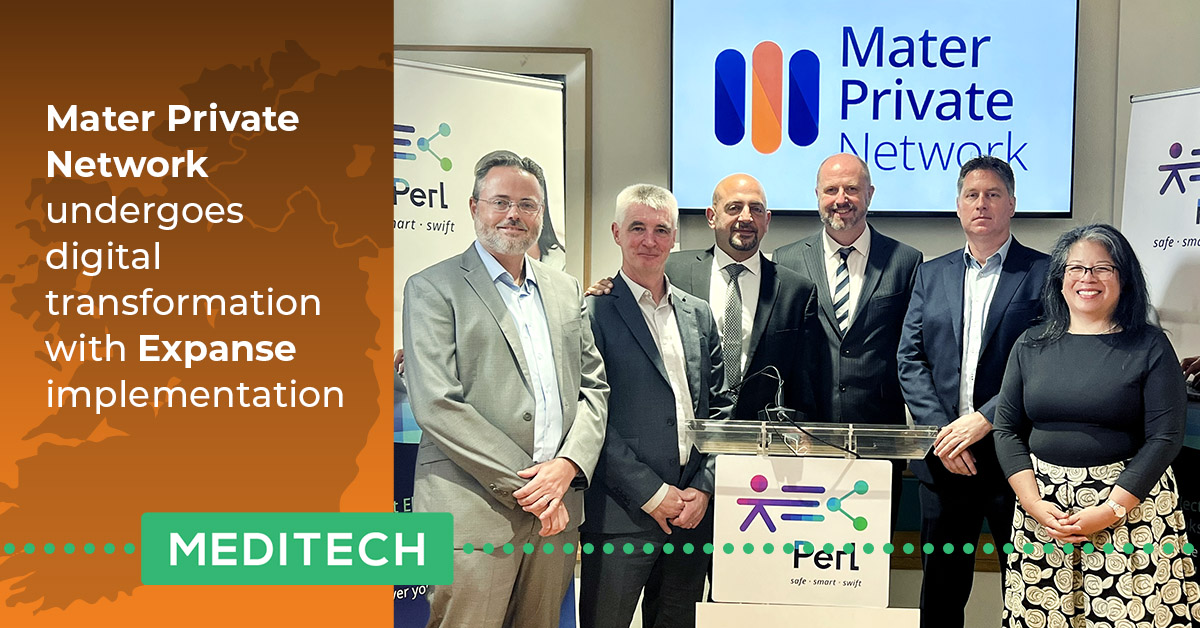 Mater Private Network digital transformation underway with Expanse implementation launch
Cancer and cardiac care leader looks to improve patient experience and clinical outcomes
Mater Private Network (Dublin, Ireland) recently kicked off its MEDITECH Expanse implementation as part of its systemwide strategy to optimise care with an industry leading digital transformation. 
The organisation is replacing its current combination of paper records and systems with Expanse to establish a single patient record that will be accessible by all care providers in their system of hospitals, clinics, and other care settings.  
"The ultimate beneficiaries of our investment in digital transformation are our patients," said John Hurley, CEO, Mater Private Network.
"The EHR will facilitate clinical integration across our network, enhance access and patient participation in their own care. Seamless personalised care across our network will further improve our excellent clinical outcomes and patient experience."
Focused on patient-centred care, Mater Private Network plans to leverage Expanse's tools and analytics to help reduce many patient safety risks such as early identification and treatment of sepsis. The implementation will also include Expanse Oncology, an outpatient solution that provides specialty-specific workflows, decision support, and mobile access to patient data. 
"Every step in the transfer or communication of medical and healthcare information is a significant contributor to clinical efficiency," said the lead clinician on the project, Dr. Róisín Ní Mhuircheartaigh, Consultant Anaesthesiologist and Chief Medical Information Officer.
"The EHR is about introducing a single, unified patient record which will encompass the entirety of the patient's journey with us. It also ensures any information brought in from other institutions has a single, safe, easy to find, digital location in the patient's new e-Chart, quickly and easily accessed by every professional involved in their care."
Ireland's leader in cancer and cardiac care, Mater Private Network is the second organisation in Ireland to implement Expanse.