MEDITECH Expanse Oncology
Keep complex care connected.
From diagnosis to survivorship, cancer patients need more than oncology-specific care — they need whole person care. That's why it's even more important for their history to be captured in one integrated record, accessible to oncologists in a modern, web-based interface.
Expanse Oncology is a complete outpatient solution. Automated practice, scheduling, and infusion workflows optimize efficiency, so you can meet high patient volumes and provide a positive patient experience.
Care for more patients.
Cancer incidence rates are on the rise, challenging oncologists and cancer centers to care for more patients. With Expanse Oncology, they can use any device to see the information they need in the way they want to see it.
View the patient's whole story in personalized chart displays and mobile, web-based specialty workflows.

Use customizable widgets, shortcuts, preferences, and order sets to schedule treatments.

Document care easily. Options include voice recognition and typicals, which allow physicians to determine preset responses used regularly, or considered "normal" for a patient to be experiencing.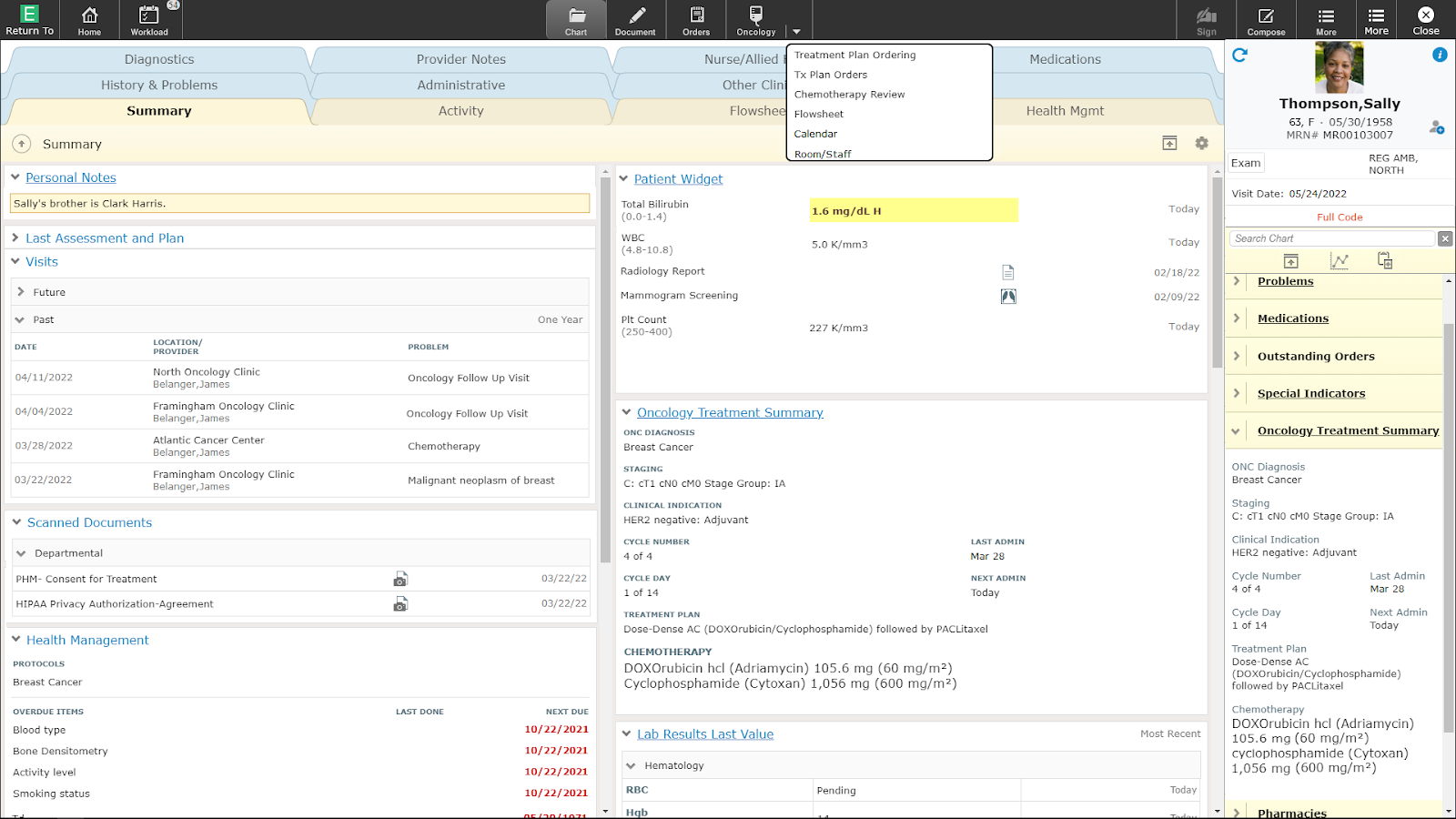 Empower oncologists with specialty-driven content.
Everyone benefits from instant access to embedded decision support as well as expert-based templates and protocols from industry-standard resources. Expanse Oncology optimizes care team communication with evidence-based treatment plans that support multidisciplinary ordering.
Integrated AJCC 8th & 9th edition TNM staging protocols
425+ peer-reviewed, embedded NCCN® chemotherapy templates
Assessment and documentation templates
Clinical Practice Guidelines® - Survivorship templates
The whole patient journey, from diagnosis through survivorship.
The patient story doesn't begin with a cancer diagnosis. Expanse Oncology helps oncologists deliver essential, whole person care. They can see everything that has led up to their patients' diagnosis and coordinate care effectively during treatments and beyond.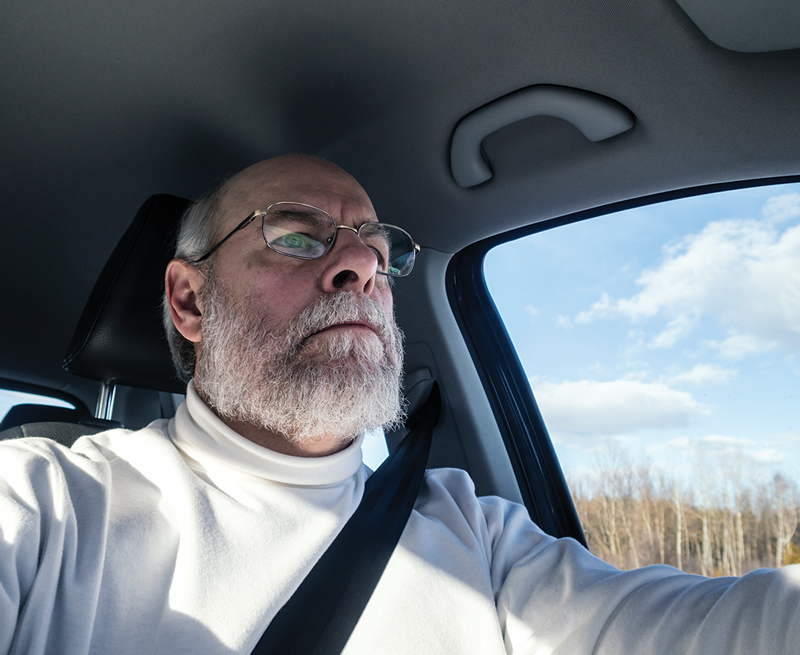 Start with the big picture. Meet Peter . . .
After his diagnosis, Peter arrives at the cancer center, where the oncologist accesses his demographic and health data. Dr. Shelby confirms Peter's identity, accepts the referral, and reviews everything she needs to know in the EHR. She engages with Peter while staging the cancer electronically and deciding on his treatment.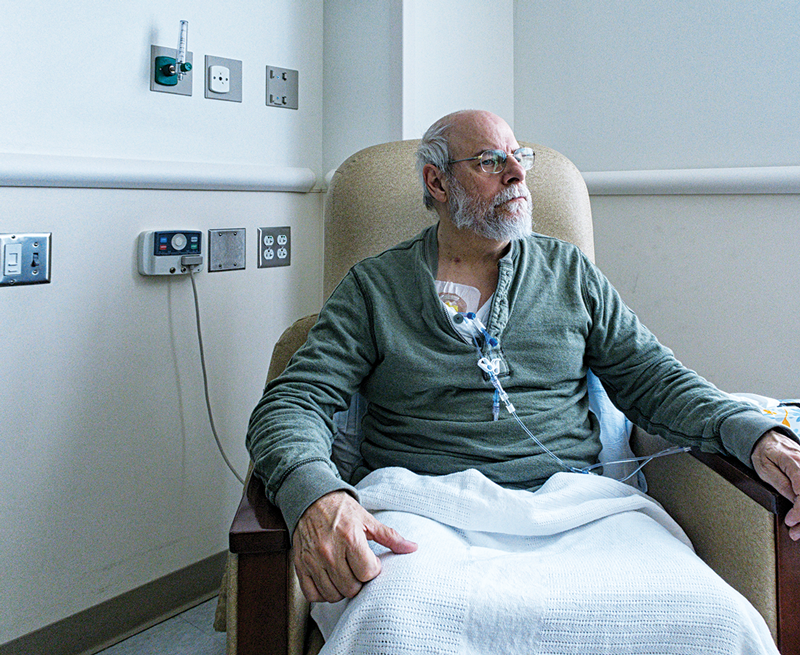 Keep everyone on the same page.
Wherever Peter is treated, his care teams are in the know. Standard workflows for reviewing medications, chemotherapy cycles, and treatment plans keep everyone on the same page, and multidisciplinary documentation ensures consistent communication. Plus, centralized ordering enables medications, tests, and assessments to be paired, supporting more efficient treatment planning.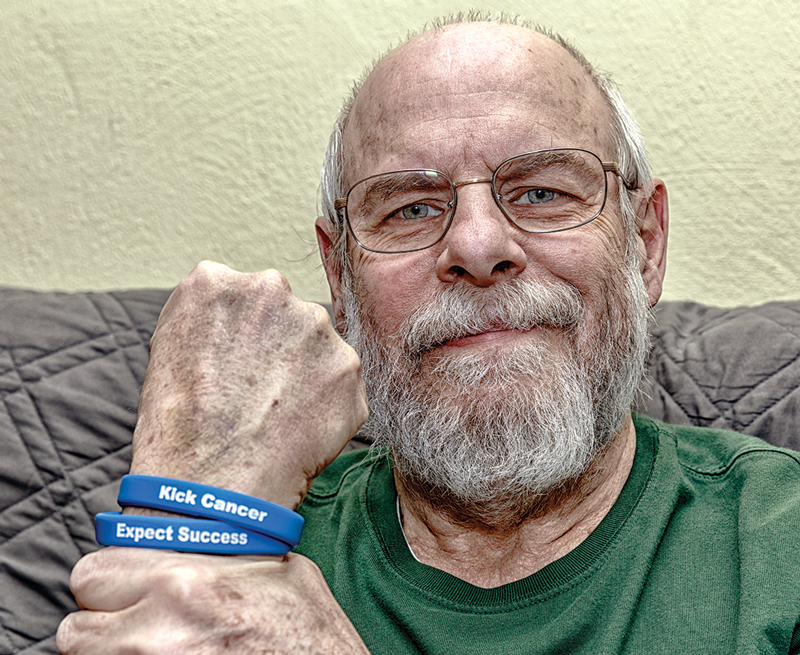 Celebrate with Peter as he rings the bell.
Peter's Survivorship Care Plan keeps him informed about his cancer, treatment, and follow-up care, while his centralized treatment history summarizes the care he received across all settings. Leveraging patient registries and health maintenance protocols, Peter's care team ensures he meets his milestones during remission.
Simplify the patient experience to support a healthier outcome.
Your patients often navigate a maze of specialists involved with cancer care, leaving them overwhelmed. Help them focus on their recovery by using an EHR that keeps all information centralized and coordinates appointments.
Complete health records follow your patients from setting to setting, ensuring their care is better coordinated. Plus, they don't have to repeat their medical history over and over again.

Centralized scheduling guides care teams so they can coordinate patient appointments, freeing them from multiple health system visits and excessive travel.

Easy access to MEDITECH's Patient and Consumer Health Portal enables your patients to view their consolidated appointments scheduled with various specialists, avoiding confusion.

A centralized business office simplifies billing, so your patients can understand their financial obligations.
Coordinate care and maximize efficiency within the infusion center and throughout the practice.
Scheduling staff
Adjust to changing demands
Modify appointment schedules on the fly with common web conventions such as drag and drop.
Save clicks
Access patients' regimens from inside the appointment block, providing context for moving resources on the grid.
Care team
Experience even greater efficiency
Integrate Expanse Patient Care with Expanse Oncology to compile status boards of pertinent information from shared system data fields.
Improve communication
Communicate treatment plan changes and modifications quickly to all members of the care team with embedded workload features.
Practice managers
Track performance
Access interactive Quality Vantage dashboards to help identify and analyze measures, meet goals, and determine potential impacts on reimbursement.
Find out how Conway Regional Health System is supporting cancer care close to home with Expanse Oncology.
"Expanse Oncology has been quite the game changer. We were able to improve functionality across the board while streamlining communications with the rest of the care teams. Our oncologist has become proficient in a short amount of time, resulting in overall better documentation and care."
Travis Reeves, Oncology Director
Major Health Partners
Shelbyville, IN
Tune into the MEDITECH Podcast for interesting conversations with today's thought leaders in healthcare.