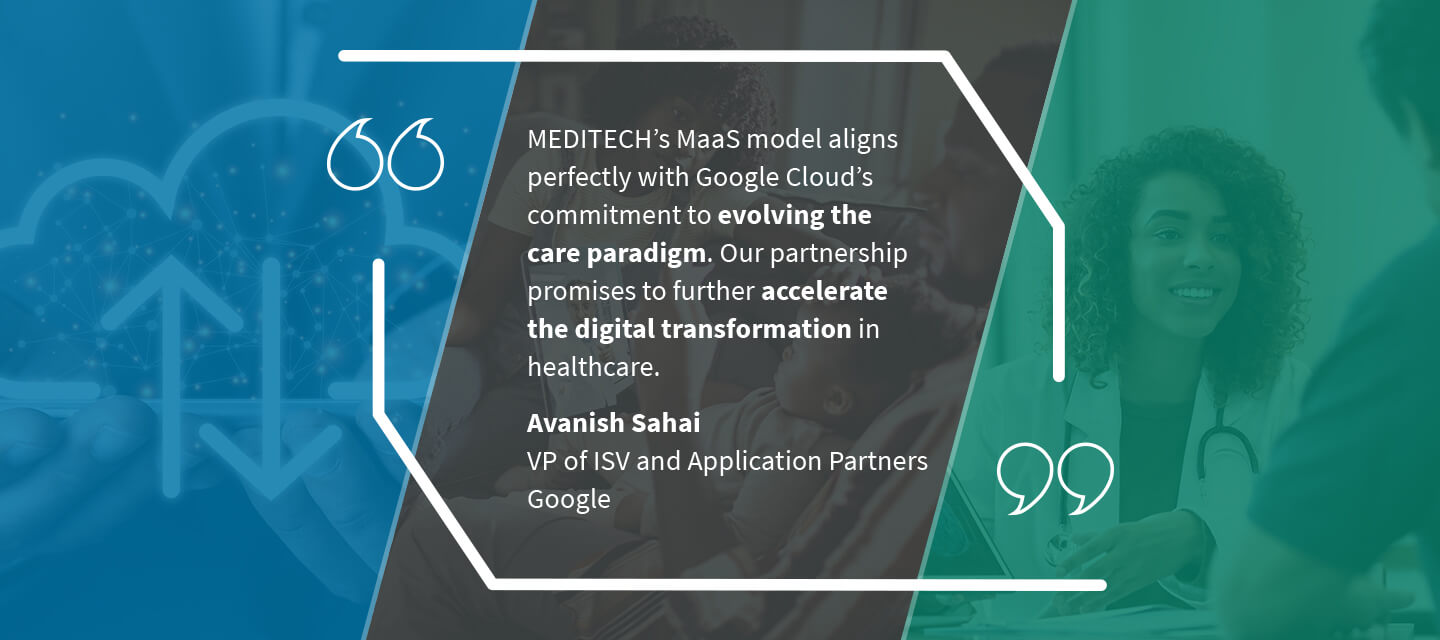 Through the pandemic and beyond, more hospitals are choosing MaaS
MEDITECH as a Service (MaaS) ensures that organizations go LIVE with the full version of Expanse across all care settings while leveraging resources like Google Cloud Platform for secure patient data management.
Building on the impressive growth MEDITECH experienced amid the challenges of 2020, the company's momentum in the healthcare industry continues this year, particularly with its MEDITECH as a Service (MaaS) subscription model.
By bundling Expanse with third-party vendor contracts into a single proposal, MaaS ensures that organizations go LIVE with an integrated EHR across all care settings while leveraging resources like Google Cloud Platform for secure patient data management.
MEDITECH President and CEO Michelle O'Connor credits the new Google partnership with delivering additional benefits to customers.
"The quicker implementation time, predictable cost structure, and robust cybersecurity provided by pairing MaaS with Google Cloud's platform have also helped healthcare organizations keep moving through turbulent events like COVID-19, providing clinicians with the Expanse platform's modern, intuitive tools to maintain the highest quality of patient care," explained O'Connor.
"MEDITECH's MaaS model aligns perfectly with Google Cloud's commitment to evolving the care paradigm by providing secure and continuous patient care, enabling providers with collaboration and productivity tools, and advancing genomics research at scale through AI and analytics," said Google's VP of ISV and Application Partners, Avanish Sahai. "Our partnership with MEDITECH promises to further accelerate the digital transformation in healthcare."
A dozen hospitals and a standalone ambulatory facility, including six net new subscribers, have signed for MaaS since Jan. 1, joining nearly three dozen customers who have selected the solution for their organizations since 2018.
KLAS results underscore company's market growth
MEDITECH's continued market growth has gained widespread industry recognition, shown prominently in the company's results as confirmed by research firm KLAS.
In its 2021 Best in KLAS: Software & Services report, KLAS ranked MEDITECH first in Acute Care EMR (Community Hospital), Patient Accounting & Patient Management (Community Hospital), and Home Health EHR (small 1-200 average daily census), and a close second in Overall Software Suite Rankings, citing Expanse's modern, web-based user interface and workflow benefits.
MEDITECH also earned high marks for clinician satisfaction with EHR personalization in the KLAS Research 2021 Large Ambulatory EMR Report, scoring an impressive 8.4 on a 9-point scale.
And in its most recent U.S. Hospital Market report, KLAS noted that MEDITECH continued its growth in the large hospital segment, one of only two EHR vendors to achieve this distinction. KLAS reported that MEDITECH remains a strong competitor in the Standalone Critical Access Hospital space (1-25 beds), signing six new customers and losing none, thanks in part to MaaS. 
MEDITECH was also the only major vendor to record acute care hospital migrations during the year, with 14 wins total, according to KLAS.
"With the increasing prominence of subscription models across the tech industry, MEDITECH foresaw the opportunity to deliver better results, faster, to our customers," said O'Connor.
"MaaS is our answer to where the healthcare industry is headed — toward greater flexibility, sustainability, safety, and empowerment for providers and organizations — and puts us in a solid position to answer the pent-up demand for innovations like our new model for EHRs."
Video duration: 1 min. 08 sec.
---