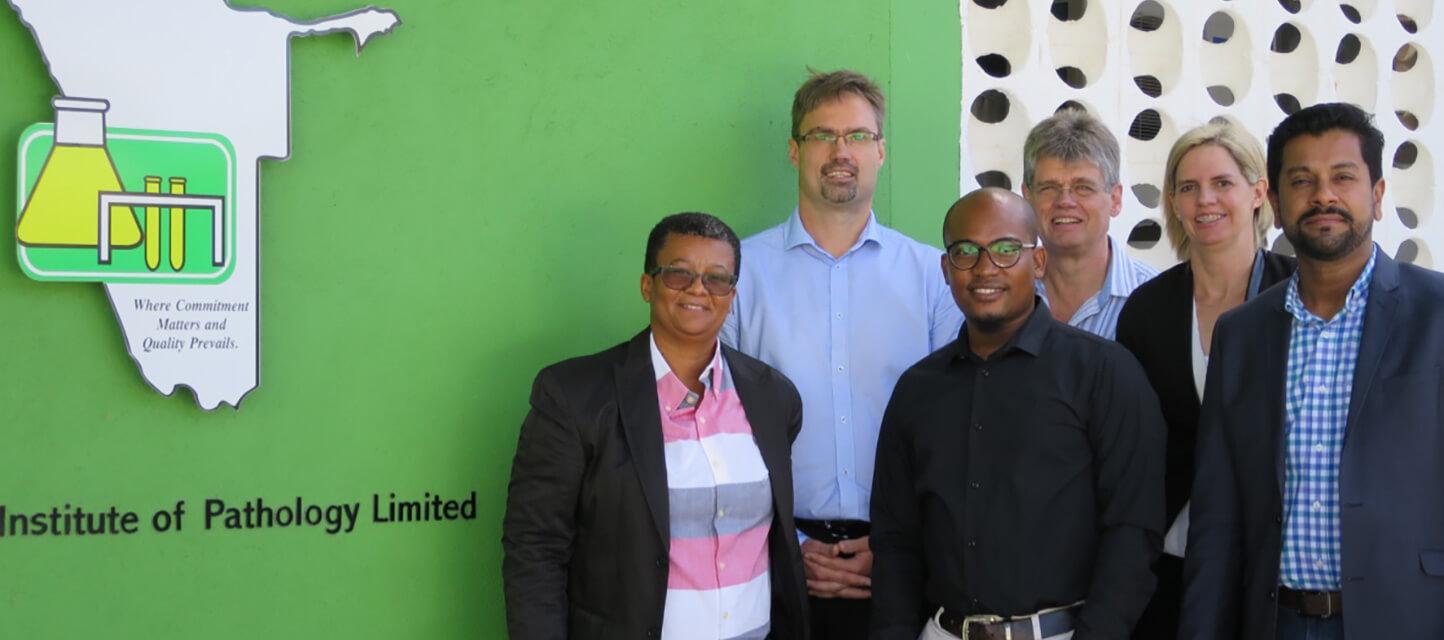 Using MEDITECH, Namibia Institute of Pathology Improves HIV Testing and Disease Monitoring
The Namibia Institute of Pathology is making great strides in creating more efficient care processes and aligning itself with global best practices.
Treating complex conditions like HIV/AIDS is still a growing challenge in many parts of the world, as new disease strains continue to drive the need for more tests and treatments. The Namibia Institute of Pathology Limited (NIP) is one organisation making great strides in creating more efficient care processes, while aligning itself with global best practices.
Using the MEDITECH system, NIP provides medical laboratory services to health facilities throughout the country of Namibia. This institute handles all public health sector pathology testing and provides extensive disease monitoring services. 
NIP recently received a number of recognitions for its outstanding work in the medical laboratory services field, including:
Best State-Owned Enterprise - Windhoek Observer Newsmakers Award for making positive contributions to Namibia and its people.
World Quality Commitment Award - Business Initiative Directions for excellence and innovation in their practices, putting quality first at all levels of organisation.
European Award for Best Practices 2016 - European Society for Quality Research for outstanding business results, best practices, quality awareness, and achievements by companies in regional and global markets. 
Best Practices 2016 - European Business Assembly recommended NIP for the international Best Regional Institutes Award, recognising integrated research of the global market of educational services, effective management programs implementation, original intellectual and technological innovations application, and implementation of up-to-date technologies.
All Africa Public Sector Innovations Award 2016 for successfully developing innovative solutions to service delivery and governance challenges; NIP was recognised for its Short Message Service (SMS) printer project, which transmits laboratory results from the MEDITECH system to printers in selected rural health facilities, thereby reducing the time spent waiting for blood test results.
Namibia HIV/AIDS Hero Award 2016 for outstanding contributions in the fight against HIV/AIDS, working towards the global objective of ending AIDS by 2030.

Other Achievements and Firsts 
Success in Fighting HIV/AIDS
According to the World AIDS Day report, Namibia is a global leader in confronting the challenges of HIV and AIDS. More than 70 percent of Namibians have been tested for HIV and know their status, while HIV treatment is widely available across the country. The government funds 65 percent of the national HIV response, demonstrating to the world its leadership and commitment to the Namibian people.
Continuing to Achieve International Accreditation
One of NIP's strategic objectives is to achieve international accreditation for all of its major laboratories across the country. To accomplish this, NIP implemented a quality management system based on the ISO 15189:2012 International Standard requirements for medical laboratories. In meeting this standard for competence and quality, international accreditation was granted to NIP's Swamed, Katutura, and Rundu private laboratories, further aligning the organisation with best global practices.
Introducing First-of-its-Kind Container Laboratories 
In response to infrastructure challenges among area hospitals (which often cause delays in test results) NIP introduced prefabricated container laboratories. Sponsored by the United States government, the shipping container-style laboratories allow NIP to conduct HIV viral load testing, which will provide a much faster turnaround time for doctors and their patients.
"MEDITECH is very proud of what the Namibia Institute of Pathology has achieved," says MEDITECH Chief Strategy and Marketing Executive Charlotte Jackson. "NIP's accomplishments demonstrate its longstanding dedication to strengthening Namibia's health system, as well as improving care quality and accessibility for all citizens." 
About The Namibia Institute of Pathology
The Namibia Institute of Pathology Limited was established as a state-owned commercial entity in the year 2000, with the objective of providing medical laboratory services to health facilities in Namibia. At inception, NIP took over 23 laboratories from the Ministry of Health and Social Services (MoHSS) and has since opened another 17 laboratories -- making it the largest diagnostic pathology service provider in Namibia. Since 2005, NIP has used MEDITECH as its comprehensive electronic laboratory information system.