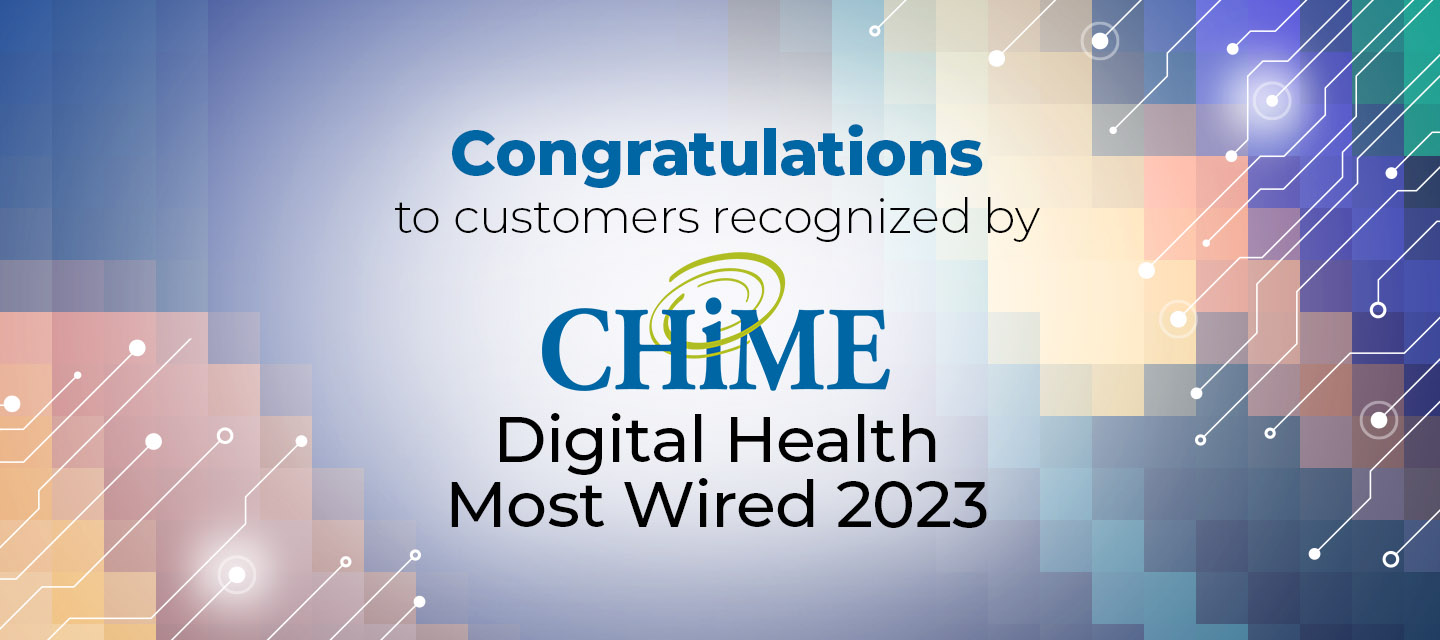 MEDITECH customers named to CHIME's 2023 Digital Health Most Wired List
78% of MEDITECH recipients qualified for both Acute and Ambulatory recognition.
MEDITECH is pleased to congratulate those customers recently named to the 2023 Digital Health Most Wired list by the College of Healthcare Information Management Executives (CHIME). With the healthcare industry in a time of great digital transformation, our customers continue to turn to Expanse to lean into these changes and establish their own paths forward.
This year, the number of MEDITECH customers to achieve Most Wired Level 7 designation or higher rose by 38% in the acute care setting and 40% in the ambulatory setting, with 78% of those MEDITECH customers recognized for both the acute and ambulatory settings. As customers optimize their EHR by incorporating solutions like Surveillance and Business and Clinical Analytics, many have been able to successfully advance their scores in the survey.
St. Claire Healthcare in Morehead, KY, made its first appearance on this year's list, debuting as a level 8. "What truly makes us happy is how our ongoing improvements benefit our community," said St. Claire VP/CIO Andy Price."Technology is central to delivering quality patient care, and this award reflects our passion for using it to improve our patients' experiences."
Other customers who saw their scores rise in this year's survey include Broadlawns Medical Center, DCH Health System, Doylestown Health, Grand View Health, Hancock Health, Lima Memorial Health System, and Northern Vermont Regional Hospital. 
Frederick Health - an organization consisting of 26 sites serving the residents of Frederick County, MD - was able to advance from a 7 to an 8 in both ambulatory and acute care, according to their VP/CIO Jackie Rice. 
"Our digital journey has focused on improving information access through technology, and also supporting the needs of our workforce," she said. "I'm so proud of our staff and the dedication they've shown to making our organization a leader in patient care."
Approximately 83% of MEDITECH's Digital Health Most Wired customers are currently LIVE on MEDITECH Expanse. Many Expanse customers are taking advantage of the platform's cloud infrastructure as well as implementing the latest innovations in AI, interoperability, and precision medicine programs using genomics.
"So many of our customers have embraced digital transformation as the path to better patient/provider experiences and more cohesive patient care," states CHIME Foundation Board Member and MEDITECH COO and Executive Vice President Helen Waters. "Our customers have always shown a commitment to improving people's lives with the help of modern technologies. We are proud of the rising number of customers who have leveraged the Expanse platform to earn the Most Wired designation, as well as those who have achieved similar levels of digital maturity. 
The CHIME Digital Health Most Wired survey and recognition program is a comprehensive "Digital Health Check-up" for healthcare organizations worldwide. Survey submissions for 2024 Most Wired will open in April of next year. To learn about the survey application process visit CHIME's Digital Health Most Wired webpage.