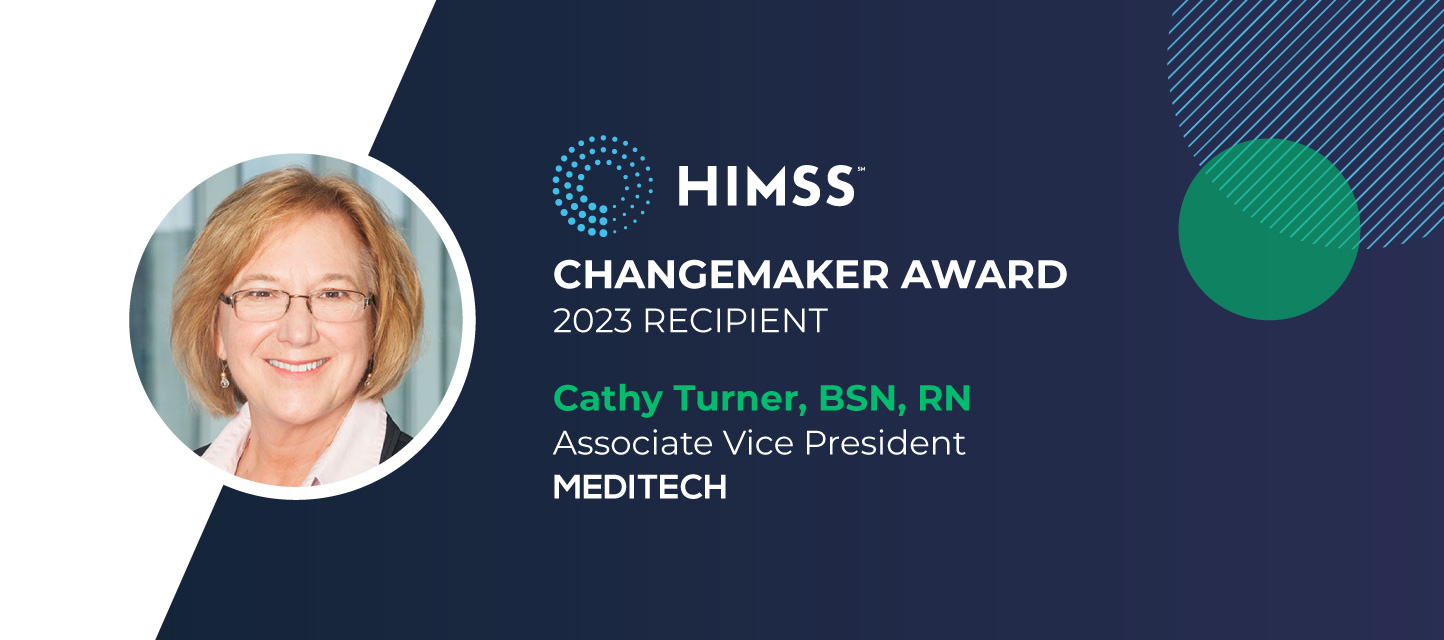 Cathy Turner wins 2023 HIMSS Changemaker Award
MEDITECH Associate Vice President Cathy Turner, BSN, RN has been named a recipient of the 2023 Changemaker in Health Award by HIMSS.
MEDITECH Associate Vice President Cathy Turner, BSN, RN has been named a recipient of the 2023 HIMSS Changemaker in Health Award. The HIMSS Changemaker in Health Awards recognizes inspiring senior healthcare executives who rigorously challenge the status quo in their journey to build a brighter health future and lead change in their relentless pursuit to improve care by harnessing the power of information and technology. 
The award speaks to Cathy's ongoing commitment to driving transformational change leading toward improved health outcomes through the advancement of information and technology. Cathy plays a vital role in MEDITECH's nurse informatics program, which she implemented and continues to support. The program now operates across all divisions to guarantee nurses a representative voice. She is also an advisor on MEDITECH's Patient Safety Review Board and Customer Patient Safety Advisory Board, and she co-chairs the HIMSS CNO/CNIO vendor roundtable.
Turner is committed to sharing with others the benefits HIT can achieve and the impact her work has had on patients and clinicians. Speaking about what excites her about the future of HIT, Turner notes, "We have only scratched the surface with the impact HIT can make in healthcare. Embedding innovative technologies like genomics, AI, or Google Cloud into EHRs, such as MEDITECH Expanse, will help healthcare organizations take better care of their patients, clinicians, and the communities they serve, which makes all the difference."
Outside of MEDITECH, Turner is an adjunct professor at Northeastern University Bouvé College of Health Sciences Masters in Health Informatics program. She also developed and taught the course "Introduction to Health Informatics" at the University of Miami for their Master's in Health Informatics program.
Subscribe to our blog to catch up on the latest thought leadership from Cathy Turner.