2021 Home Care Symposium
Online

View presentation recordings from MEDITECH's 2021 Home Care Symposium.
[newUpdateGraphic/] = new content added.
[newUpdateGraphic/] Read how COVID-19 has changed public perceptions of home care in MEDITECH AVP Cathy Turner's blog.
[newUpdateGraphic/] Thank you for attending our Home Care Symposium. Presentation recordings are now posted to our Home Care Product Resources Webinar Archive.
Thank you to Bill Dombi, President of the National Association of Home Care & Hospice (NAHC), for being this year's keynote speaker. Learn more about Mr. Dombi under the Keynote tab.
The agenda is now posted for our week-long Home Care Symposium. Click on each day's tab below for all the details.
MEDITECH is pleased to announce that Expanse was ranked #1 in three key categories in the 2021 Best in KLAS: Software & Services report. MEDITECH was the top performer in Acute Care EMR (Community Hospital), Patient Accounting & Patient Management (Community Hospital), and Home Health EHR (small 1-200 average daily census).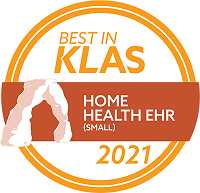 A customer password may be required to access certain materials linked from this page.