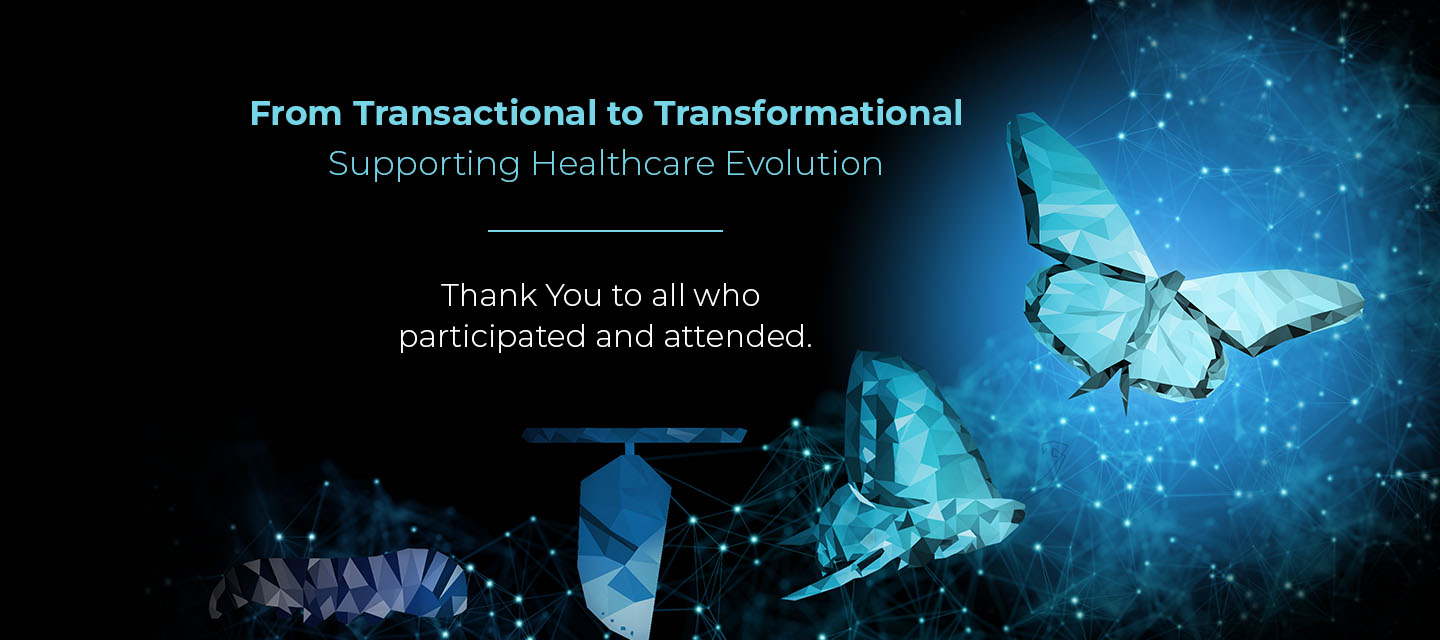 Exploring the evolution from transactional to transformational care at MEDITECH's 2021 Physician and CIO Forum
MEDITECH hosted the 2021 Physician and CIO Forum in a hybrid format that enabled us to amplify the voices of clinicians on the frontlines during a once-in-a-century pandemic.
"Healthcare transformation is a journey that requires discipline, focus, experience, tenacity, and purpose. It can be difficult to sustain during tough times, but it's the only way we can create a better future."

Bill Young, CIO
Berkshire Health Systems
What does it mean to make healthcare more human in an automated world, more connected during a time of isolation, and more transformational than merely transactional? 
MEDITECH's 2021 Physician and CIO Forum, a hybrid event serving both in-person and virtual attendees, captured the essence of these pandemic times — through technology that enabled a personalized experience for healthcare professionals across the globe.
In addition, the forum's hybrid format enabled us to amplify the voices of clinicians on the frontlines during a once-in-a-century pandemic. 
Keynote speaker and NYT Best Selling author Dr. Michelle Harper shared her experiences as an ED physician, witnessing how systemic inequality and racism often impacted the quality of patient care. 
"We see how social determinants of health - including the effects of economic instability, debt, stress, and discrimination - has contributed to higher rates of substance abuse, infant mortality, and mental health issues in the U.S. It is up to all of us to take action and risk being unpopular to advance the cause of healthcare equity."

Dr. Michelle Harper, ED
Physician and NYT Best Selling author
MEDITECH customers followed up on Dr. Harper's address with concrete strategies for improving care through the technology they use every day. Lawrence General Hospital, for example, discussed specific ways their EHR is helping them to better address the needs of their underserved communities. 
"Using our ED dashboard created with MEDITECH Professional Services, we will be able to step up our discharge planning for homeless patients, pulling partners in from the community to engage agencies and housing supports that may not have been in touch before, so we can get them the help they need."

Christina Wolf, RN, Director
Population Health and Community Development, Lawrence General Hospital
The ability to offer care that is both safe and convenient to patients where they are, was crucial for many of the event speakers. AveraHealth shared how their Hospital at Home initiative was able to give their community prompt care without exposing them unnecessarily during the height of COVID-19. 
"We're excited to have technology like remote patient monitoring available to us. With the pandemic, it really felt like it was the right time for us to deploy this type of care in the most convenient way for patients."

Rhonda Wiering, MSN, RN, NHA, Vice President
Clinical Growth and Innovation, Avera@Home
But perhaps the most important part of the forum was the time it provided attendees to reflect on what we've all learned and discuss how we can all move forward together.
"While challenging, COVID-19 has also opened new opportunities for digital healthcare and innovation. At MEDITECH, our job is to guide customers through the changes, to grow stronger and smarter from these challenges we are all facing."

Helen Waters, EVP
MEDITECH
Interested in learning more? View presentations and videos from MEDITECH's 2021 Physician and CIO Forum 2021 on our Events Page.
Video duration: 0 min. 54 sec.
---