MEDITECH
Circle
The Most Connected, Transparent Support Around
We are proud to announce MEDITECH Circle, an intuitive customer support platform built to simplify the customer experience, save time, and connect all the pieces of your organizational story. It is the culmination of years of user feedback, workflow research, and investments to unite everything we do to support our customers.
Video duration: 0 min. 47 sec.
---
Strong, versatile knowledge at your fingertips
MEDITECH Circle empowers your staff to get all the answers to their EHR questions through three unique pathways:
A simple question usually has a simple answer in our Knowledge Base.

A more complicated query puts you in touch with one of our experts, to help support you and reach a resolution.

If your question doesn't have a quick answer, you can monitor progress through our transparent case system.
Open options for questions and support
MEDITECH Circle includes a sophisticated new support portal that directs every possible need.
Intuitive search features and interfaces will empower more intelligent self-service

Rapid and transparent communication on each request means staff always are kept in the loop.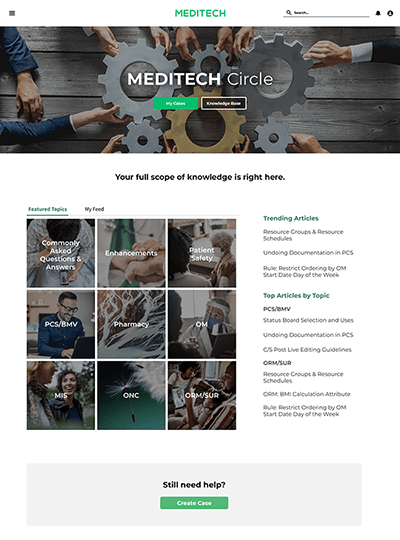 Video duration: min. sec.
---
The proof is in the partnership
MEDITECH Circle connects you to real people, here to help navigate your questions, so your organization can focus on what it does best: providing high-quality patient care.
Addressing everyone's concerns, on every level

C-Level
From corner to corner, a CIO can tell how all of their organization's needs are being met. You can also identify common areas and trends that could use more attention.

Informaticist
An informaticist with a more in-depth question can get a status update in moments through the intuitive portal. There will always be a dedicated MEDITECH staff member or team available to help you.

Clinician
A clinician can refer a quick question to the robust Knowledge Base for an answer, without holding up their workflow.
"MEDITECH Circle is our shift to a more complete, connected, and open support platform. This solid foundation will advance our ability to support customers far into the future."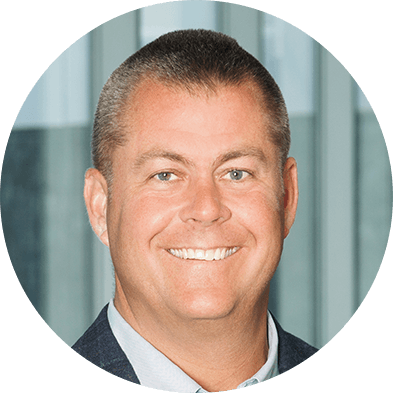 Michael Malone, Associate Vice President,
Client Services, MEDITECH
MEDITECH is making care more accessible, more connected, and more human. Ready to see what joining the Circle means for you?