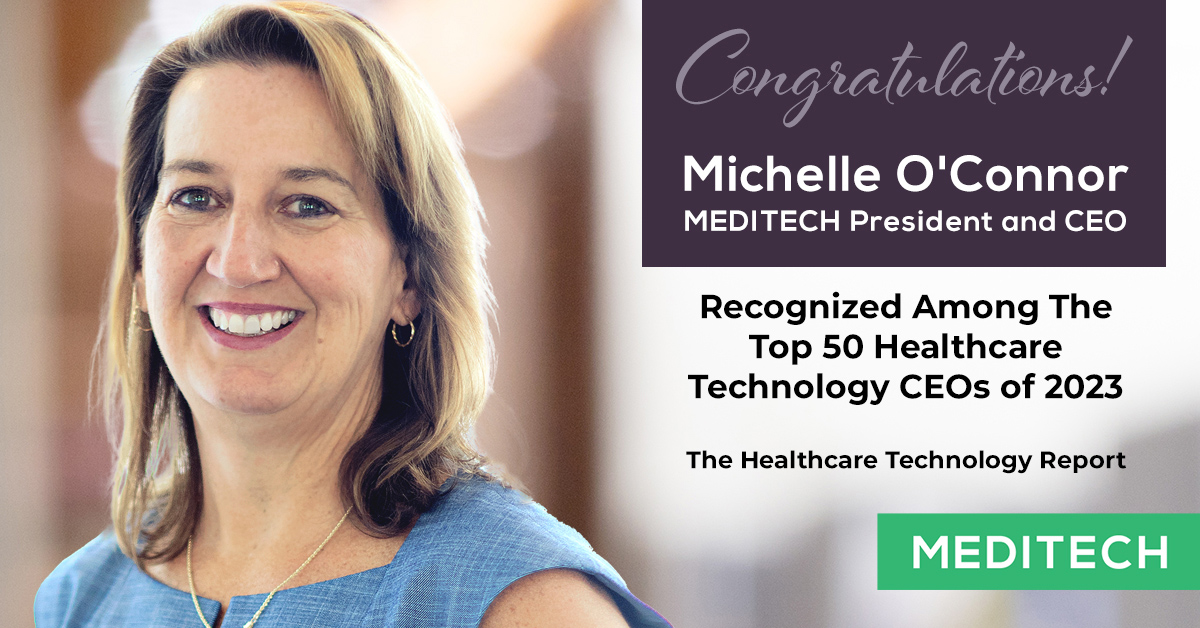 MEDITECH leader recognized among the Top 50 Healthcare Technology CEOs of 2023
MEDITECH President and CEO was recently recognized by the Healthcare Technology Report as one of the top 50 healthcare technology CEOs of 2023.
The Healthcare Technology Report recently named MEDITECH President and CEO Michelle O'Connor among the Top 50 Healthcare Technology CEOs of 2023. The report highlighted her outstanding leadership in the development and implementation of innovative solutions through the Expanse EHR.
According to the Healthcare Technology Report Announcement: "These accomplished individuals embody what it means to be a great leader in the modern era, leveraging keen business acumen with a consistent drive to make the world a healthier place.
"They have brought some of the most advanced healthcare solutions to market — from innovative software platforms to medical devices to therapeutics and beyond — while improving the patient care experience and outcomes." 
O'Connor has distinguished herself as a leader among her peers by demonstrating her commitment to improving healthcare through information technology. 
"Being named alongside these remarkable industry leaders is an honor," said O'Connor. "Developing innovative solutions is what we do at MEDITECH, but our patients are why we do it. We will continue to give our customers the tools they need to provide the most advanced, patient-centered care to their communities."
The Healthcare Technology Report also listed MEDITECH as a category leader in the Healthcare Software section of the Power 500 Healthcare Technology Companies of 2023. Check out the MEDITECH blog to learn more about the impact of our transformative solutions.