MHealth: MEDITECH in the App Store
Patients can access their MEDITECH portal via the MHealth app.
In today's healthcare, patients want access to health information at their fingertips, wherever they are — and we're right there with them. MEDITECH's Patient and Consumer Health Portal connects millions of patients in over 750 healthcare organizations worldwide to their care. Now, patients have direct, streamlined access to their MEDITECH portal through MHealth.
 
MHealth - the mobile app gateway to our Patient and Consumer Health Portal - is available through the Apple Store and Google Play. MHealth provides patients with secure, convenient access to their health information via their mobile device or tablet. Patients can use the app to review upcoming appointments, request new appointments, check test results, securely message providers, manage home medications, request prescription renewals, view discharge instructions, and more. It's an effective way for organizations to engage patients and elevate their overall care experience. 
---
Key Features
MHealth makes it easy for patients to connect to your MEDITECH Patient and Consumer Health Portal. Here's the breakdown:
Portal Selector: MHealth's Portal Selector allows patients and their family members to easily locate their healthcare provider's MEDITECH Portal, and launch the connection with a single tap. No need to create bookmarks or browser shortcuts.
Intuitive and user-friendly: Open MHealth, and you're immediately connected to your MEDITECH Portal — no more launching a browser and searching for that bookmarked link. Want to switch to a different MEDITECH Portal? Simply access the Portal Selector and select another.
 Streamlined webview: MHealth provides the web browser functions needed to navigate the MEDITECH Portal, for a smooth, streamlined user experience.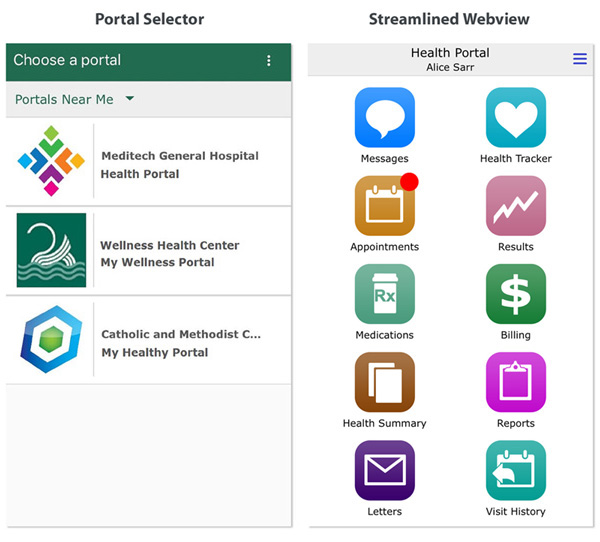 ---
Learn More 
MEDITECH will introduce tools, postcards, and other suggestions for promoting MHealth to patients in our upcoming webinars. View the links below to sign up and get more information: 
For more, please visit the MHealth App Support page.