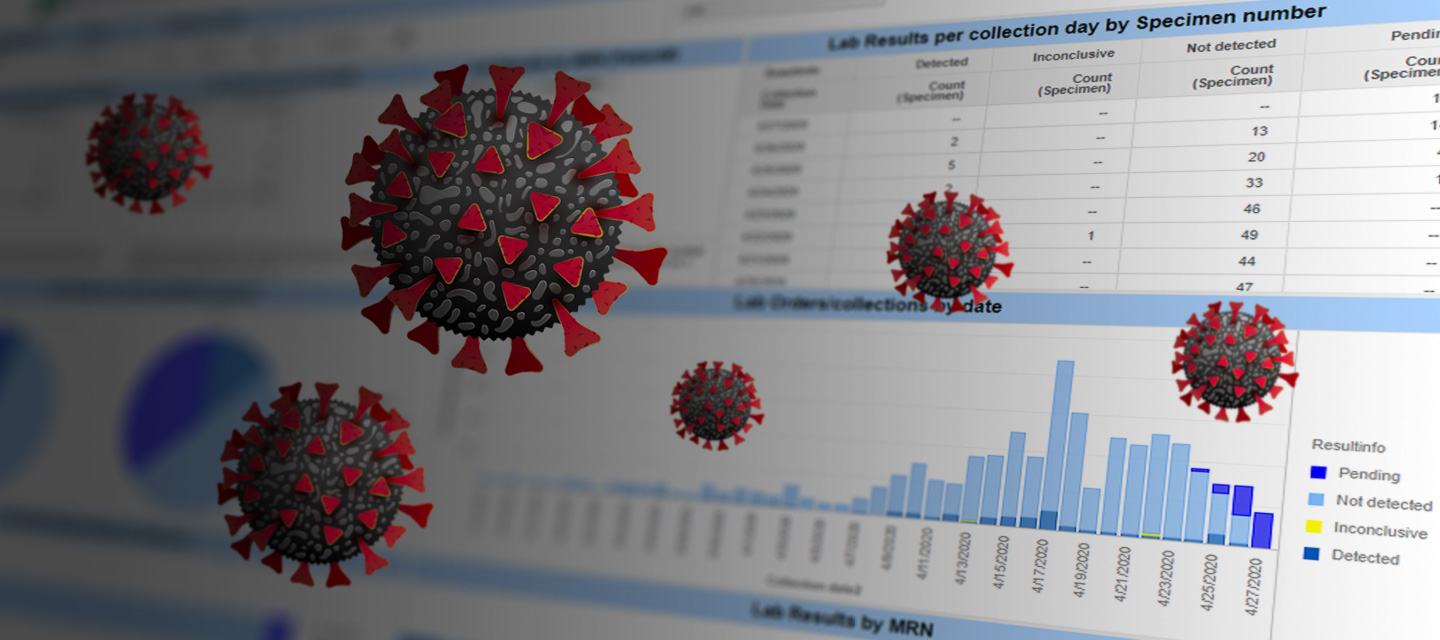 Firelands Regional Health System Monitors COVID-19 Patients with MEDITECH's BCA Solution
Firelands Regional Health System is using an interactive reporting dashboard to analyze the spread of COVID-19 and serve the evolving needs of their community.
Managing big data is critical to organizational efficiency and patient safety in the midst of the COVID-19 pandemic. In Ohio, where the total of new confirmed COVID-19 cases surpassed 1,600 per — as of April 27th— Firelands Regional Health System (Sandusky, OH) is working to stay ahead of the surge by using analytics to identify coronavirus cases, trends, and resources. The organization recently developed an interactive reporting dashboard specifically for COVID-19 patients using MEDITECH's Business and Clinical Analytics (BCA).
Tracking in Real Time with the COVID-19 Reporting Dashboard
Firelands recently moved its COVID-19 data from spreadsheets, into a dynamic BCA reporting dashboard. Two versions were created: one which drills down to patient level detail level for Infection Control and the other containing high level data for executives. Senior administration and Infection Control monitor the COVID-19 dashboard and share situation reports with medical staff and managers, which also include external sources, such as updates from the CDC.
"Our BCA dashboard has quickly become our go-to resource for the most updated information on our COVID-19 status and response," said Denao Ruttino, CIO/VP of Operations. "We are using this tool to monitor the state of the facility in real time, such as how many patients are coming through the ED and where bottlenecks are occurring."
Using their COVID-19 dashboard, which updates hourly, Firelands is able to track:
Surge capacity

Locations of cases based on patient zip codes to identify clusters

Bed occupancy and capacity

Symptoms

Lab results (negative/positive)

Testing by location - drive through vs inpatient testing

Mortality rate for COVID-19

Patients discharged with COVID-19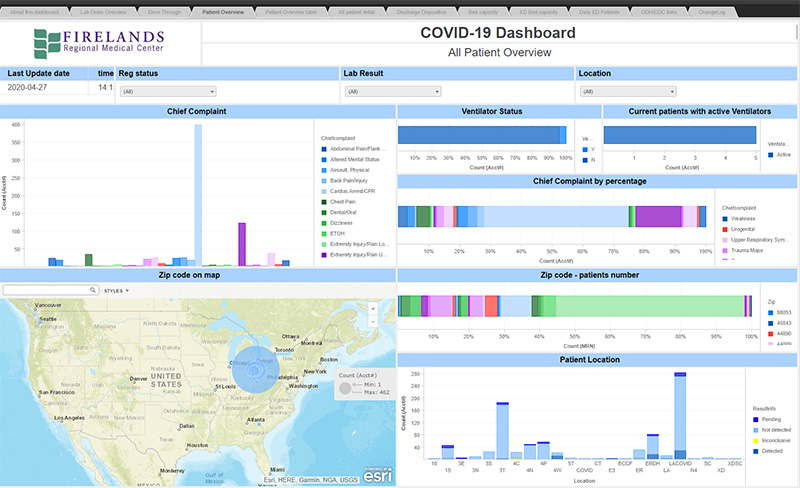 Coordinating Responses through the Central Command Center
At the center of Firelands' COVID-19 response is their Command Center, where the response team meets multiple times per day to monitor the current outbreak and communicate information to staff.
The Command Center has several large screen monitors to display analytics dashboards and their hospital floor plans, along with video conferencing to connect across multiple locations. Firelands has remote workers, medical staff, and community physicians who are conducting socially distanced meetings and phone calls every day to go over the dashboard to see where things are trending.
"We've been able to react to situations as we can see them in near-real-time. Similarly, we've been able to identify test turnaround times and compare those turnaround times by outsourced lab to see where they are getting the fastest results." The dashboard is also aiding in executing patient treatment plans, using special indicators to flag patients with COVID-19 symptoms. Visualization graphs of lab orders and test results are interactive, providing insights which help Firelands to improve their turnaround times.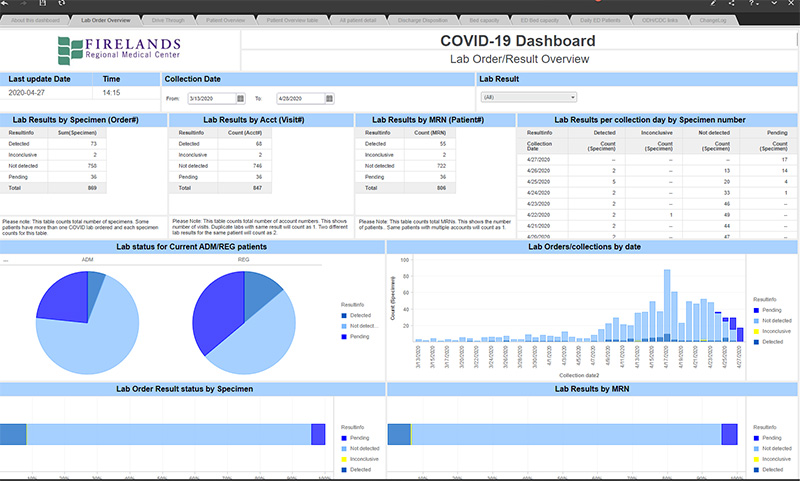 Ruttino notes that they continue to modify their COVID-19 dashboard and best practices to evolve with the pandemic.
"Initially, we only tested high-risk patients suspected of COVID-19. Now we are assuming everyone has it and are testing all admitted patients," he explained. "We are always re-evaluating what may have value and determining how we can modify processes and the system to get there. For example, we are also able to share recovery rates compared to mortality rates, highlighting recovery stats to boost employee morale. I am very proud of the Firelands team as they've done tremendous work. Strong collaboration between Informatics, IS, Nursing, Infection Control and others enables us to execute on an evolving vision. We are able to maintain situational awareness in a straight-forward manner."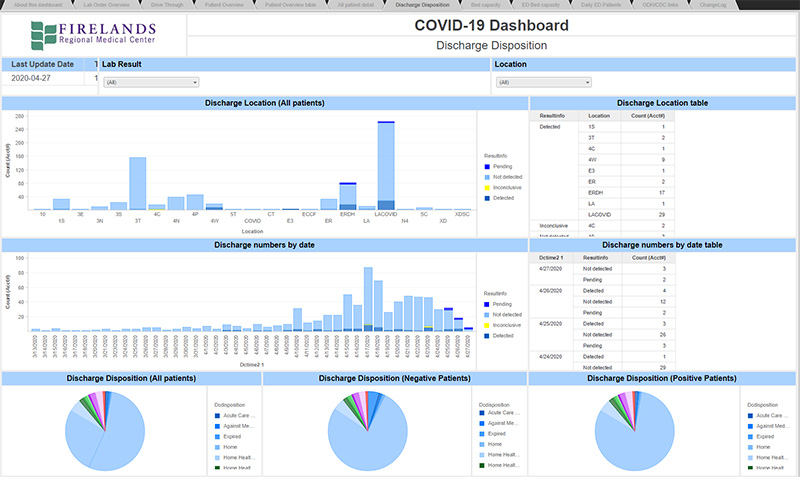 During an unprecedented time for Firelands Regional Health System and healthcare organizations across the world, access to comprehensive data is helping decision makers look beyond anecdotal feedback by using timely and accurate data to verify trends and drive more informed decisions. By knowing where they stand at all times, and predicting what's around the corner, Firelands is able to be proactive in their planning to ensure they have the appropriate resources in place.
We welcome you to contact your support team if you require any assistance with meeting reporting requirements. Our COVID-19 customer resource page also includes BCA Guidance, as well as directions on where to go for additional support.