MEDITECH COVID-19 Self-Assessing: Tenants, Vendors & Visitors
Control Plan | Self-Assessing
Building Access/Assessing Instructions
Any person entering our building is required to self-assess to determine if they have or may have the coronavirus, based on CDC guidelines. If you have it, are waiting on a test result, are considered presumptive, or have any symptoms that could be considered COVID-19, do not enter the building.
If you answer "yes" to any of the following questions, do not enter the building.
In the last 14 days, have you been diagnosed with COVID-19?
Are you awaiting a test to confirm whether you have COVID-19?
In the last 14 days, have you been told to self-isolate or quarantine by your doctor or a local public health official?
In the last 14 days, have you traveled to a high-risk state (designated as "Restricted") per the current Massachusetts Travel Order?
In the last 14 days, have you been in close contact* with a person with a known or suspected case of COVID-19

Close contact is defined as: Someone who was within 6 feet of an infected person for cumulative total of 15 minutes or more over a 24-hour period starting from 2 days before illness onset (or, for asymptomatic people, 2 days prior to test specimen collection) until the time the person is isolated.  Close contact can occur while caring for, living with, visiting, or sharing a healthcare waiting area or room with a COVID-19 case.

In the last 72 hours, have you developed any of the following?

Fever or chills
Cough
Shortness of breath or difficulty breathing
Loss of taste or smell
Muscle or body aches
Headache
Sore Throat
Nausea or vomiting
Diarrhea
Fatigue
Congestion or runny nose
*Symptoms related to an existing chronic condition do not apply.

Is your current temperature ≥ 99.5 °F?
Additional Resources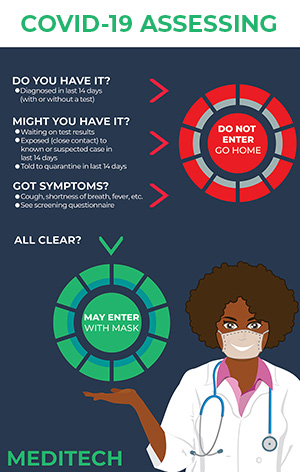 Sources
Evaluating and Testing Persons for Coronavirus Disease 2019 (COVID-19), CDC, April 27, 2020.
Symptoms of Coronavirus, CDC, Updated April 27, 2020.
This page was last updated on: