Join MEDITECH's Tweetup at HIMSS19!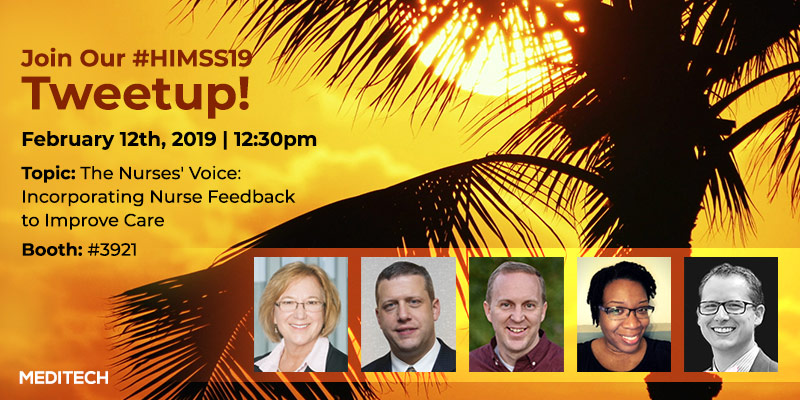 Do nurses feel connected to the right people and the information to support their efforts in delivering safe patient care? Do they feel their voice is being heard by healthcare leaders, physicians, and patients?
Join this meetup as we discuss how nurses are collaborating with healthcare organizations to deliver safer care, engage with patients, and innovate change in healthcare across their communities. We'll talk about how to embrace the voice of the nurse, incorporate their key insights and perspectives, and all the ways your organization can benefit from listening to the nurse perspective.   
MEDITECH Attendees:
Cathy Turner, BSN, MBA, RN-BC @MEDITECH_Nurses
Associate Vice President, MEDITECH
 
Joe Farr, RN @KDMCBrookhaven
Clinical Applications Coordinator, King's Daughters Medical Center
Influencers: 
Facilitator:John Lynn @techguy
Founder, HealthcareScene.com and EXPO.health
Danielle Siarri @innonurse
Social Media Practitioner, Speaker, Moderator, HealthIT Advisor
Nathan Grunewald, MD @NathanGrunewald
Chief Innovation and Leadership Officer, Sauk Prairie Healthcare